One of the most popular plants has become the Fiddle Leaf Fig or Ficus Lyrata. It instantly fills a room with beautiful green plant life. The large leaves look tropical, but also a little polished. They come in bush or tree form, whichever suits your needs.
Everywhere you look nowadays you see pictures of beautiful, lush, green plants. Indoor plants have taken over in recent years as a top design element. Whether the beloved farmhouse, modern or eclectic style, greenery has the ability to add to each design.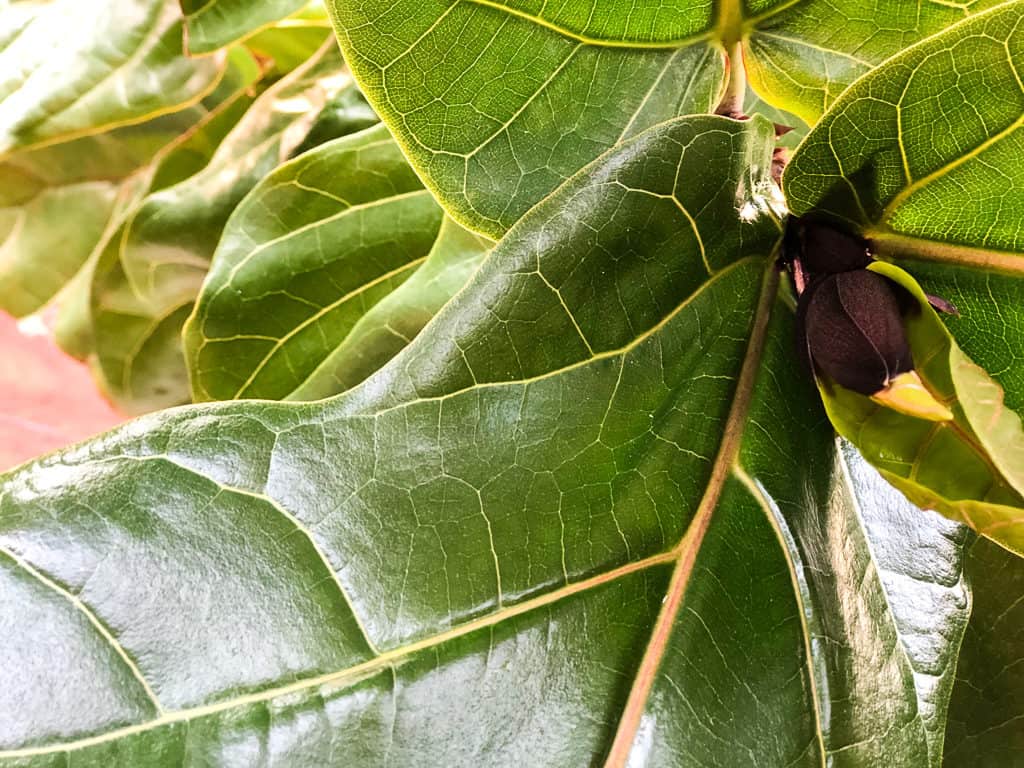 I have two fiddle leaf fig trees for almost a year now that I managed to keep alive! Not just alive, but they are now flourishing and having babies(new leaf growth).
Where to get your Fiddle Leaf Fig
The first one was my birthday present from my parents last September. The tree got overheated in the transit coming from Florida, so it looked pretty pitiful when it got here. I called Plantz right away when I saw the brown spots on the leaves and the wilted nature. They asked for pictures and were able to diagnose the problem. They were fantastic and gave me directions to try and save the first one. Then they arranged to send me a new tree, but asked if they could wait for a little break in the hot weather to ship it out. Two weeks later, I was the proud owner of two figs!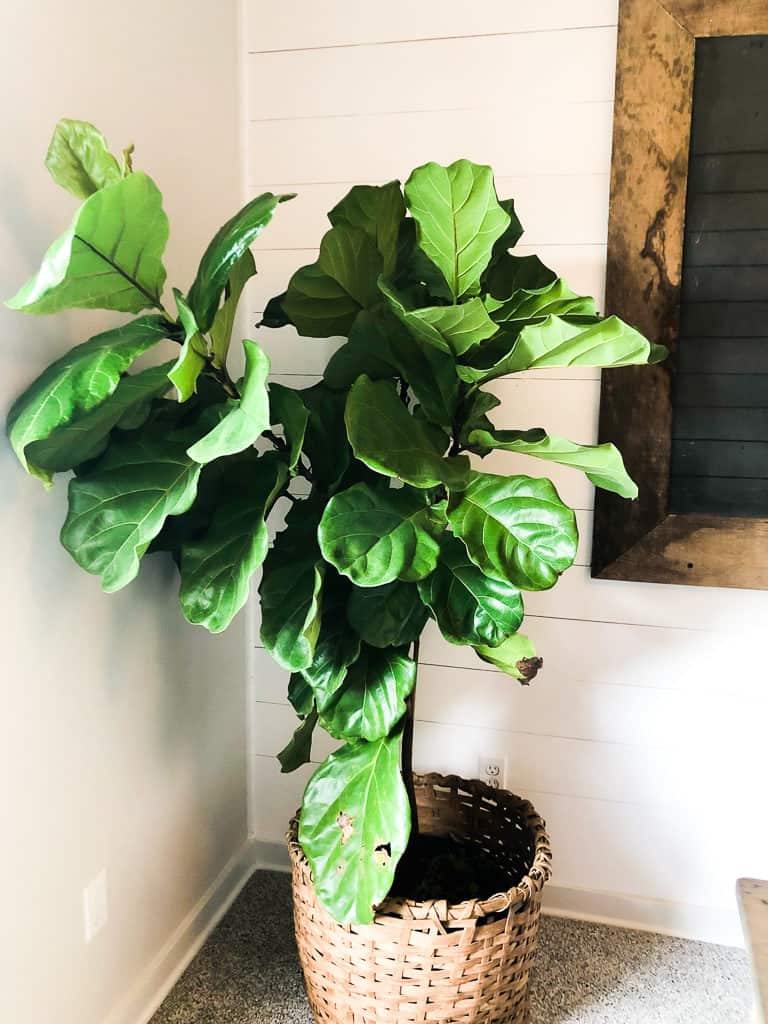 I was impressed with the service they provided and their commitment to helping me save the first tree. This is not a sponsored post in any way, I just wanted to share my experience with them.
Unboxing your Fiddle Leaf Fig
Make sure to get your plant inside quickly if it is too hot or too cold outside. These guys do not love super extreme temperatures or direct sunlight. Then when you get it set up, water it from above until the water runs out of the bottom of the pot.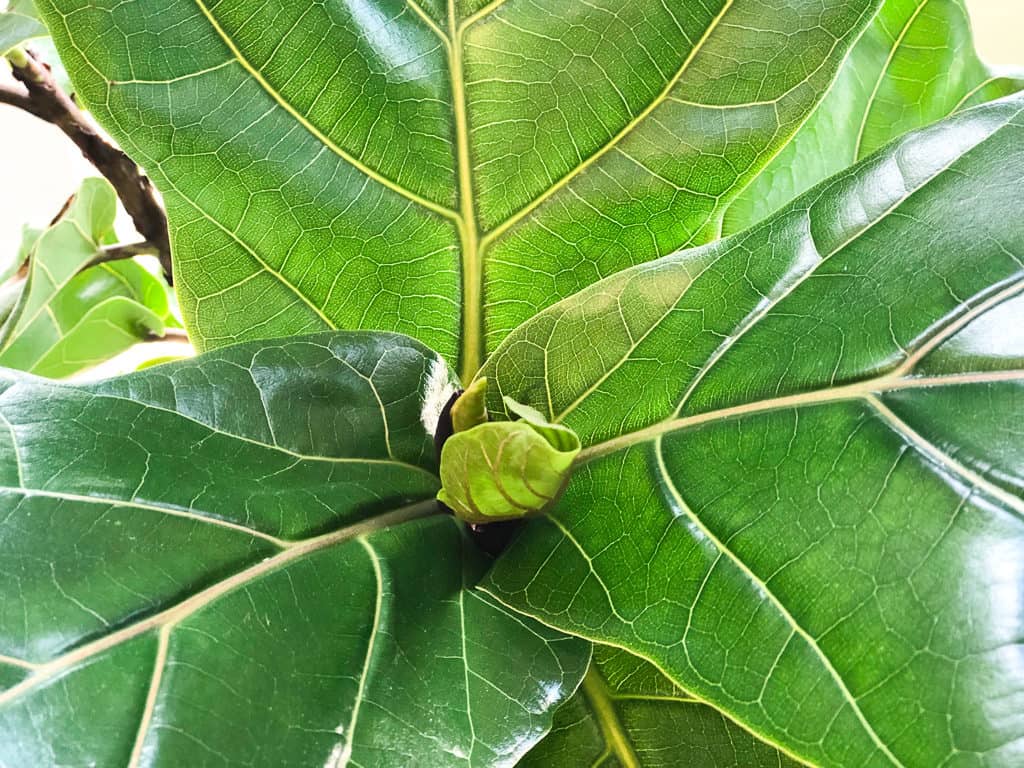 How not to kill your Fiddle Leaf Fig
Sometimes I have been known to kill my plants with over watering, so setting a pre determined schedule is vital with these trees, because they will NOT be happy if you mess up their watering schedule.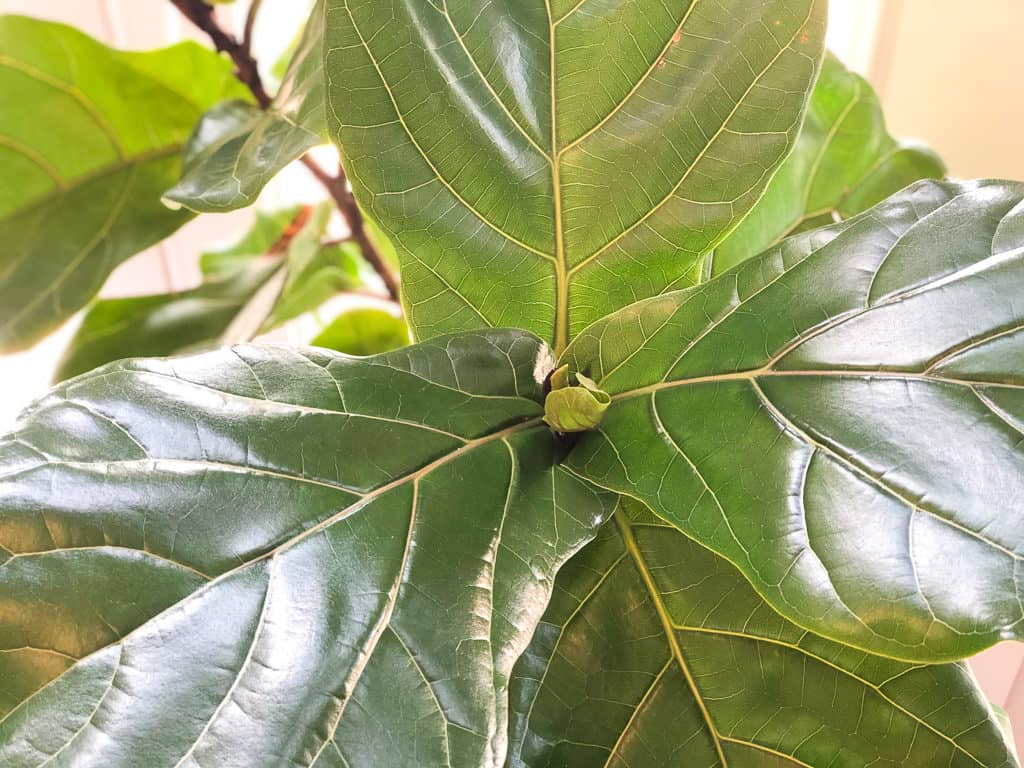 Watering your Fiddle Leaf Fig
This plant cannot handle overwatering, so this is a very important step to get right. I have tried several different methods of getting the watering right, and what I've landed on is watering on the 1st and 15th of every month. The dates are set, so I don't need to write them on a calendar.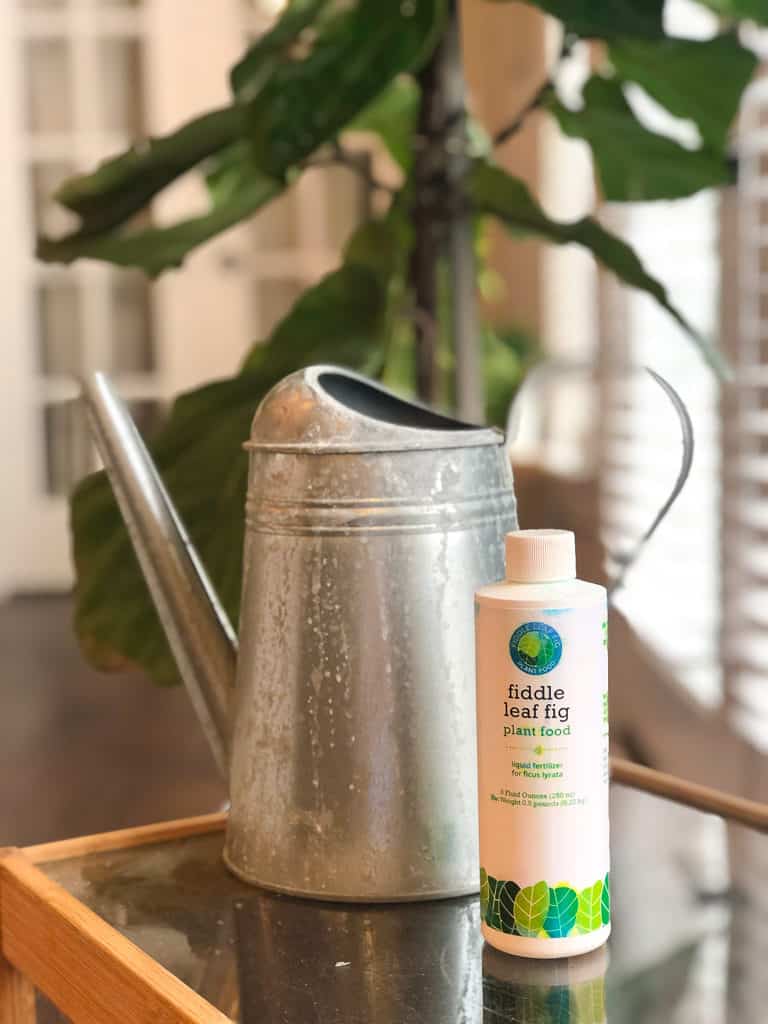 Overwatering your fiddle leaf fig
Red spots on new fiddle leaf fig growth
There are many signs you over overwatering your fig, but the one that I had happen, was little red spots on my fiddle leaf figs new growth. After touching them and determining that they were not mites, I determined that my new growth had edema from over watering! I felt terrible, but it is any easy fix, just go longer between waterings and let the new growth recover. It should continue to grow and heal .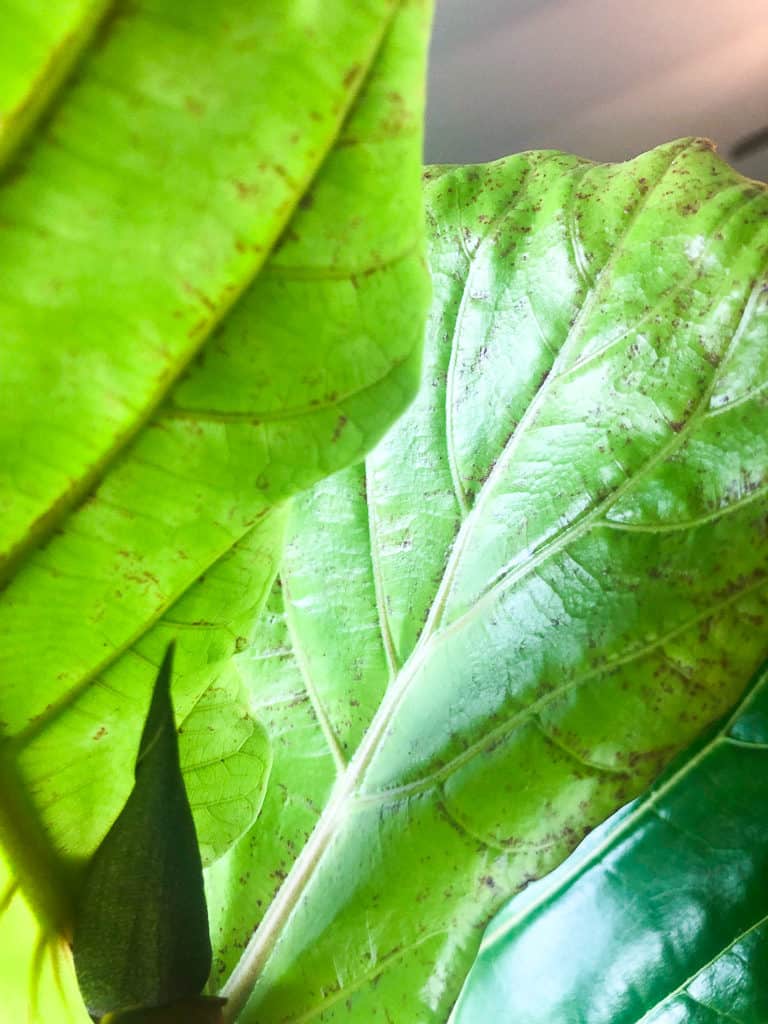 Light is Everything
Fiddle leaf figs have gotten a bad rap as being picky when it comes to light, but all they really need is bright INDIRECT light. Those big beautiful leaves can get sunburnt with too much direct light. Who would've known? So if it's in front of a west or east window, you will need a curtain of some sort to gently filter the light. The next best place in a southern facing window. Of course in my house, both of my trees are in north-easterly windows but have done remarkably well.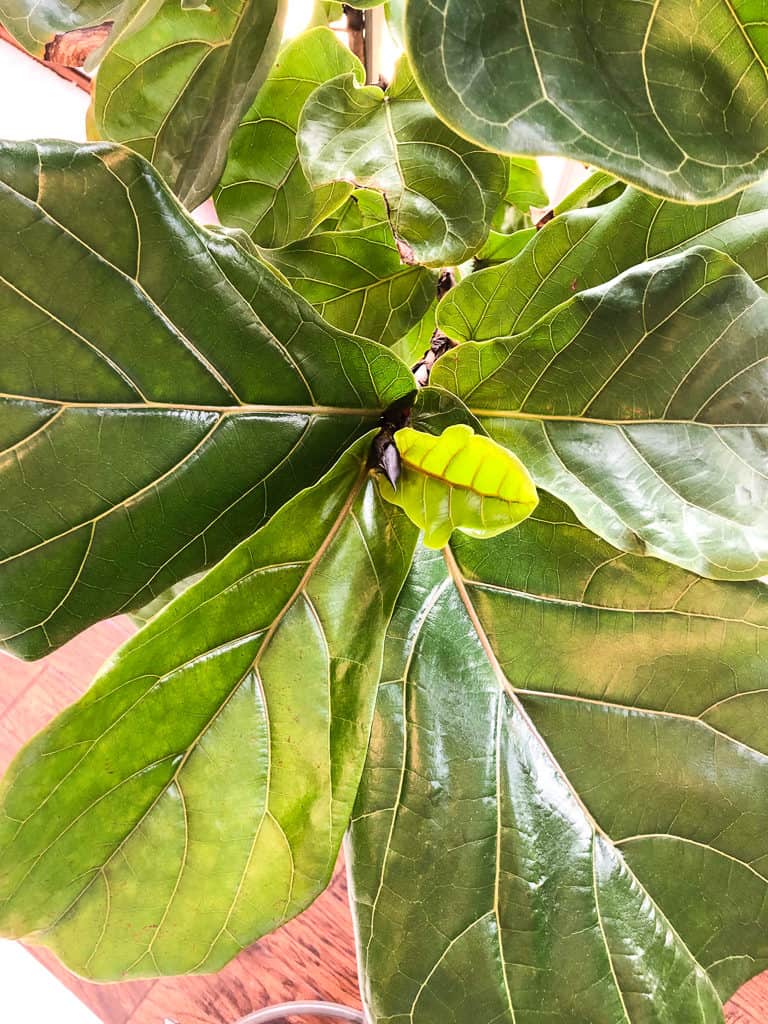 Feeding your Fiddle Leaf Fig
I had a hard time figuring out exactly when to feed the figs because it seemed like there was a lot of conflicting opinions on the subject. Some sites say to only feed them quarterly, some say feed with each watering during the growing season and every other water in the winter.
I will tell you what I have ended up doing that has resulted in a healthy, happy plant in the winter and then growth in the summer.
Feeding your fig during the winter
On average, I watered the figs on the 1st and the 15th of the month, only feeding them every other time I watered. The frequency of watering will depend on your climate, home environment and growth cycle of your plant.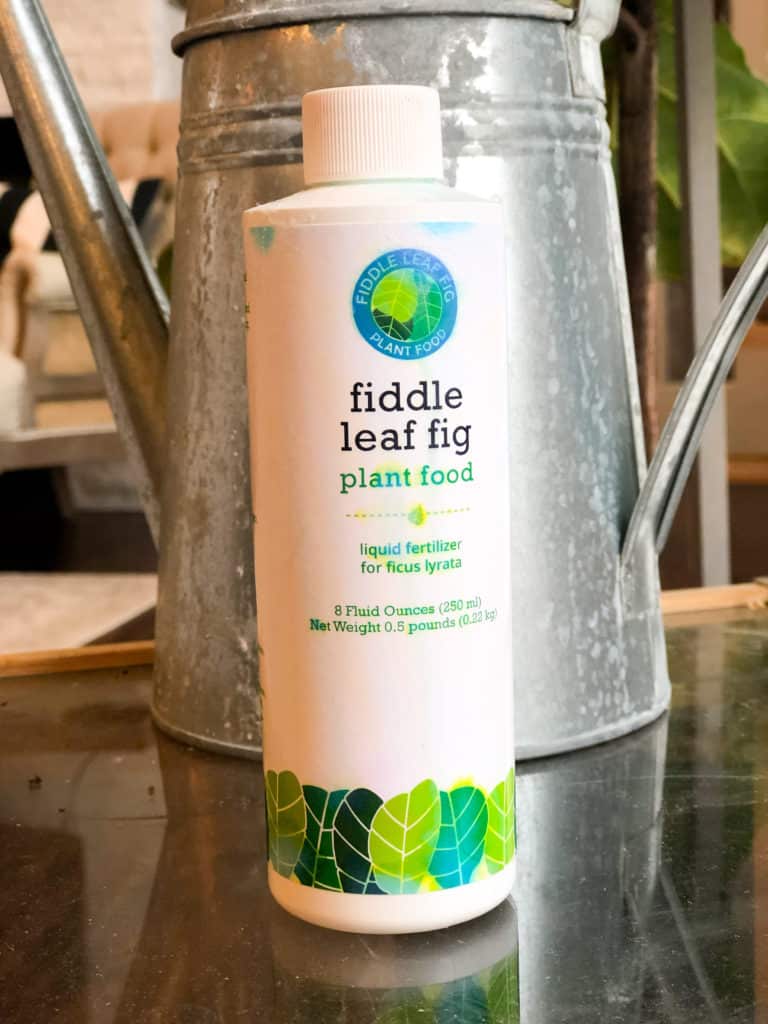 I was a little worried about my heat damaged plant making it over the winter, but it has really come to life this summer. Since I didn't get them until later in the year, they had already done their growing and were heading into dormancy for the winter. This meant I was really nervous about them living because I didn't see any positive growth from them until the next April.
Feeding your fiddle leaf fig in the summer
During the summer I feed my fiddle leaf's every time I water, on the 1st and 15th of the month. I use the liquid fiddle leaf fig plant food from Amazon. The instructions say to add 1 tsp to 2 cups of water, but I just add it to my watering can when I'm filling up the tray and it has been working well.
Trimming your fiddle leaf fig
You do not have to trim your fig at all if you like the way it looks. My fig had a few leaves lower down that still had some heat damage so I wanted to remove those. I trimmed off the really damaged part of each leaf that was affected, but I did not want to traumatize the plant further by giving it too aggressive of a trim.
So cut the leaf off at the node where it attaches to the stem. You can press these leaves in between large books and keep for decoration.
Topping your fig is a totally different topic. This is important if you are wanting to grow another one. I am not going to broach that subject today because I haven't personally done it.
Bottom line is, if you have always wanted a fig tree, go for it! They are beautiful and easy to maintain.
Go out and try something new!
Emily 🙂