Chocolate and peanut butter….is there any better combination on earth?!
Jump to Recipe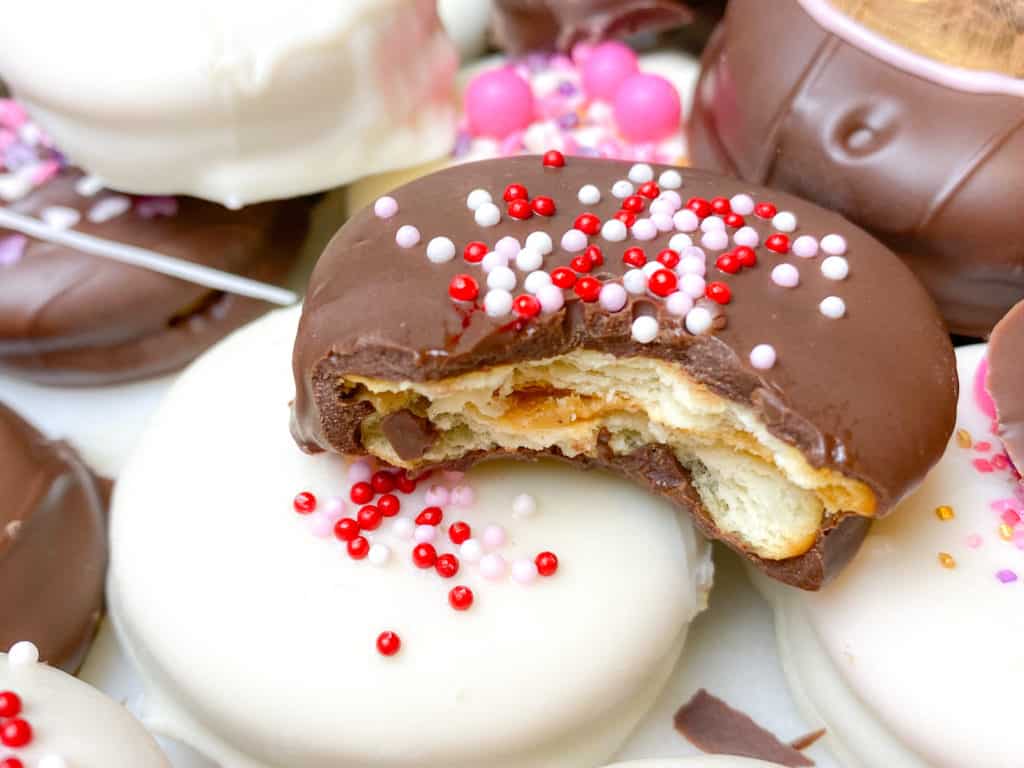 My favorite Girl Scout cookie had always been the Tag-a-long. A cookie with creamy peanut butter on top, covered in chocolate is perfection. Fair warning, this recipe is NOT dairy free. I have tried making dairy free almond bark and I have not been very successful, so I make these for friends and family that can eat dairy.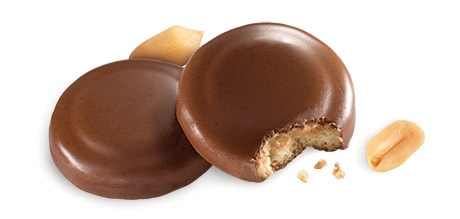 If you only have difficulties processing dairy, then one of these might be worth trying. If you have a dairy allergy, steer clear!!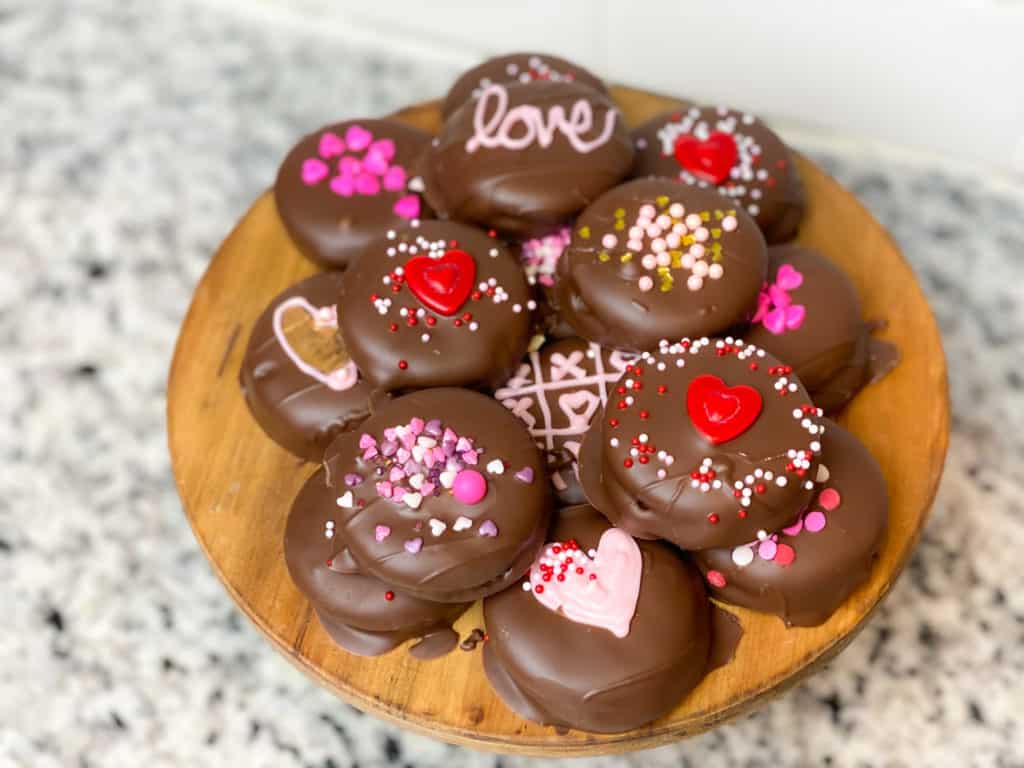 My grandmother taught me this simple cookie hack when I was younger and it was always my favorite dessert at her house. I love her dearly, but cooking was not her forte! Probably why she stayed so slender her entire life.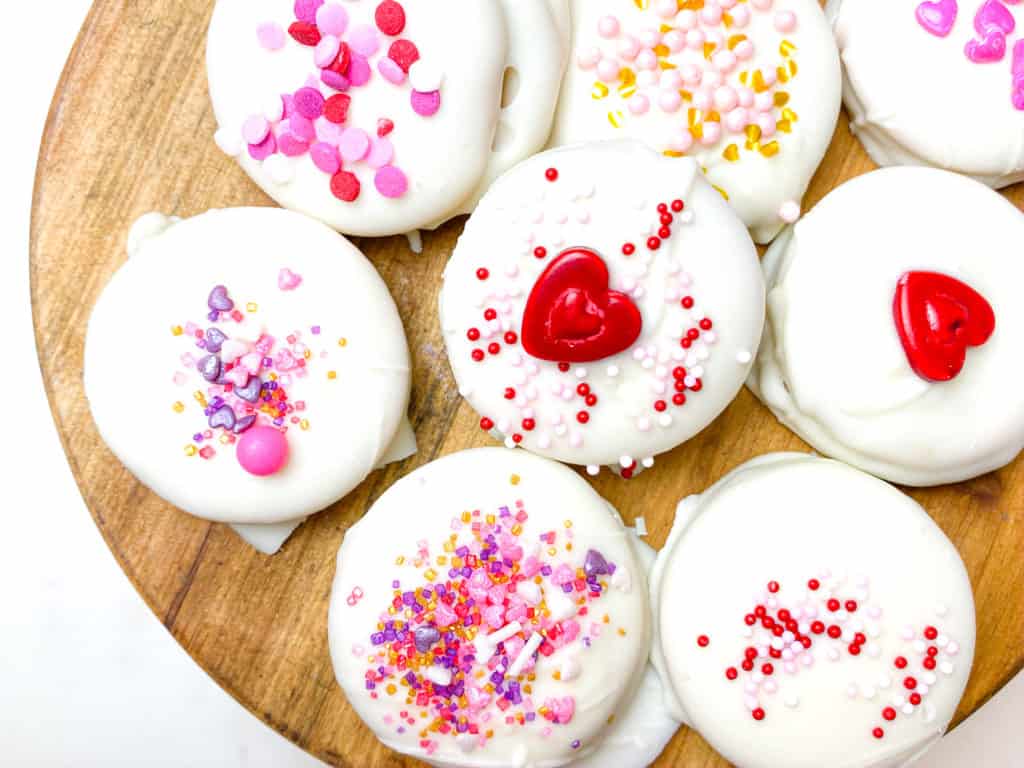 These are so simple your older kiddos can help put them together and the younger ones can help decorate.
How to make Chocolate Peanut Butter Valentines Day Cookies
Lay wax or parchment paper over your workspace.
Get your sprinkles and candies ready to be placed on top of the cookie while the chocolate is still wet.
Spread peanut butter on a ritz cracker, top with another cracker.
Melt the almond bark in the microwave for 1 min if melting the entire bar. Stir thoroughly. If there are still chunks, break them up and heat again for 30 seconds. Be careful not to scorch the chocolate-there is no coming back from that!
Dip the peanut butter crackers in the chocolate, lift out with a fork and place on the waxed paper, careful not to touch the cookies to each other.
If placing sprinkles only, then be sure to get them on before the chocolate dries. You will have enough time to dip a dozen, then go back and add the sprinkles or other design elements.
Let cool and firm up.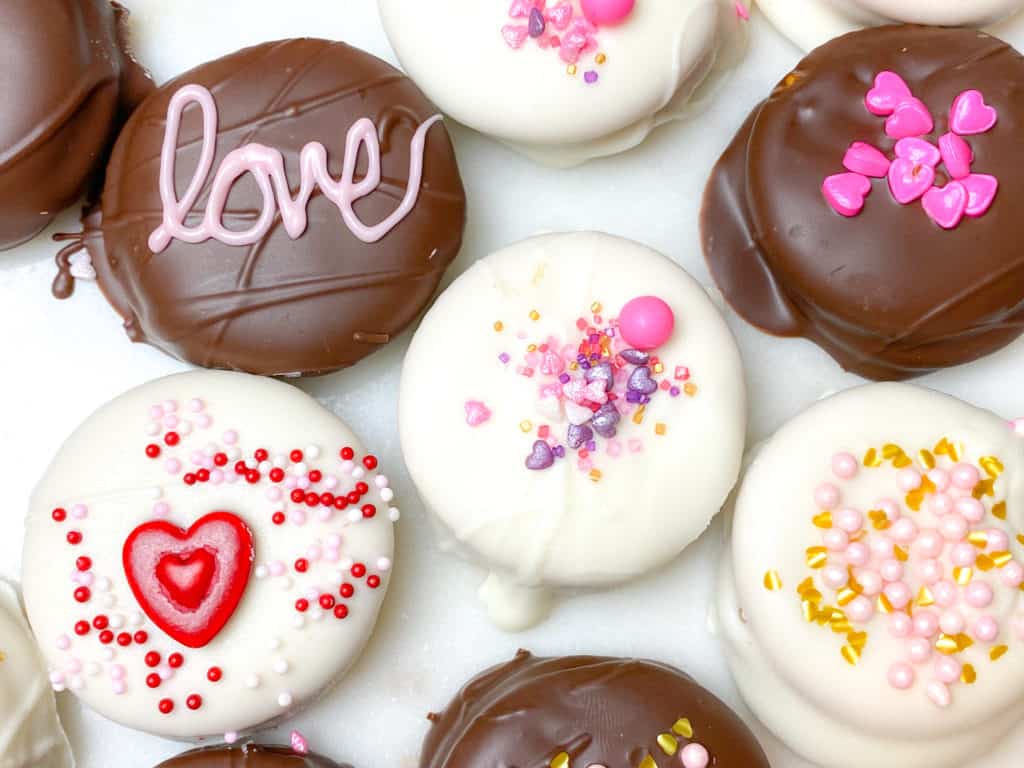 How to color almondbark
Melt the white almond bark until liquid
Add food coloring one drop at a time
Stir thoroughly
Dark colors may not be possible because too much liquid will cause this chocolate to seize and you won't be able to use it.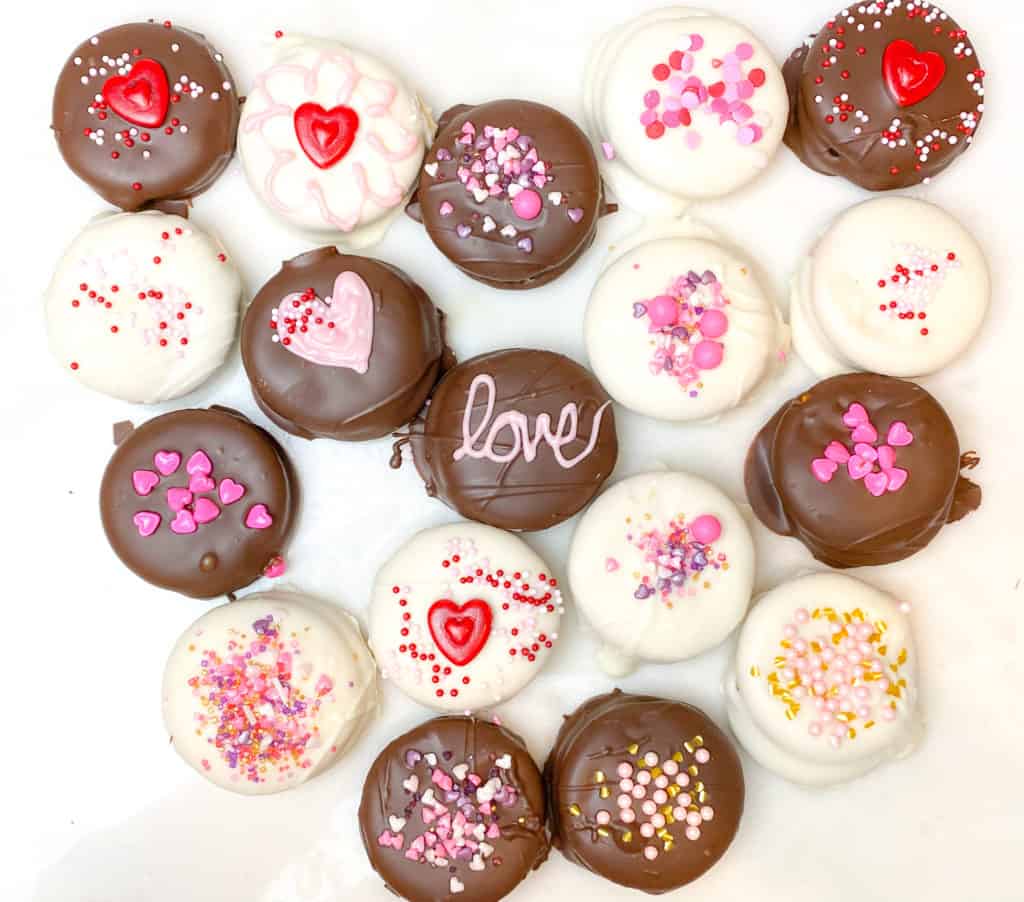 How to decorate with almondbark
Melt the chocolate
Color to your preference
Place in a squeeze type icing bottle
Work quickly because as the chocolate cools it will be harder to control.
If the flow stops, remove the metal tip, place it in hot water and place the icing bottle into the microwave. Heat in 20 second increments, until liquid again.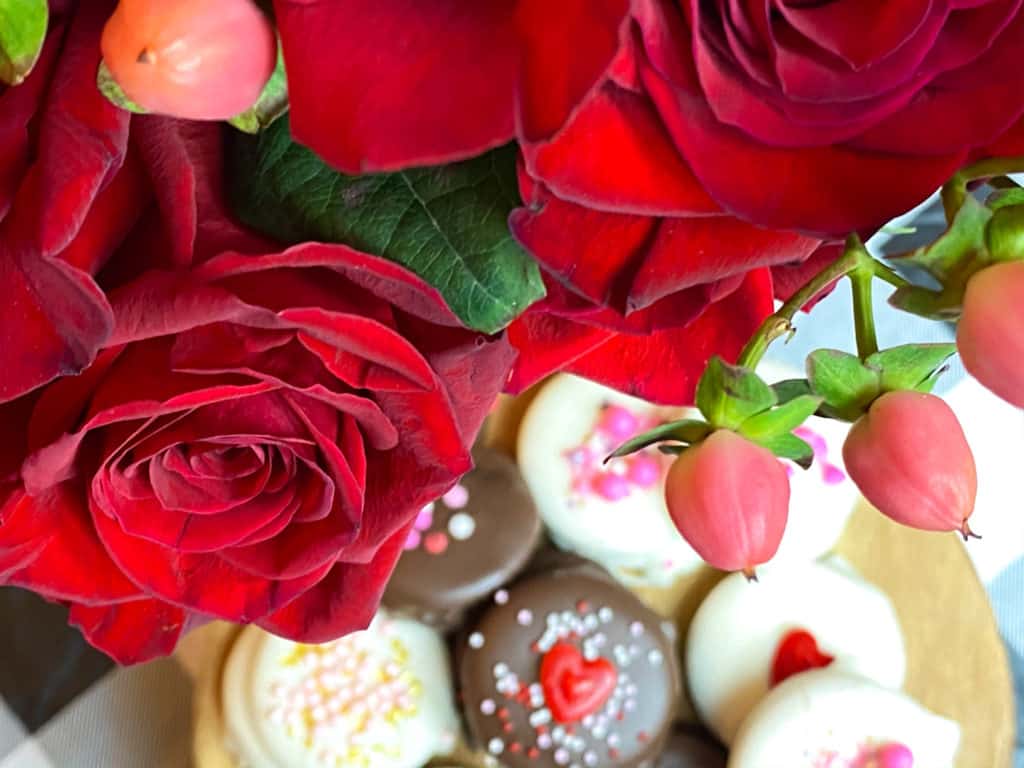 How to store chocolate peanut butter cookies
Store in an air tight container on the counter for a week. They freeze really well, up to 3 months.
Allergy friendly substitues
Switch out the peanut butter for sunbutter in the case of a nut allergy.
Dairy free melting chocolate can be found in Whole Foods and online. I haven't tried any of these out, just tried to make my own and it did not go well.
Chunky peanut butter instead of smooth would be absolutely delicious!
Peanut Butter & Co has lots of different flavors to try!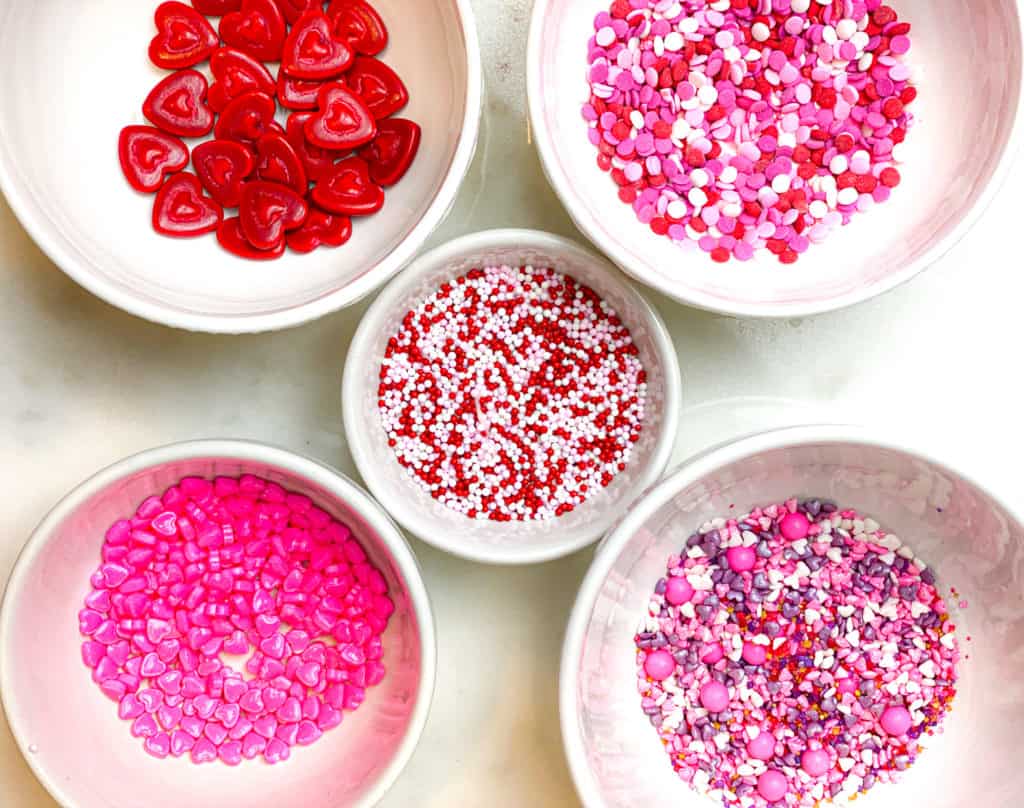 Shop this post
Recipe for Chocolate Peanut Butter Cookies
Chocolate Peanut Butter "Cookies"
Creamy peanut butter spread between two crackers, dipped in chocolate.
Ingredients
1

box

Round crackers

1

cup

peanut butter

1

pkg

chocolate almondbark

1

pkg

vanilla almondbark

sprinkles, assorted
Instructions
Cover your workspace with waxed paper or parchment paper.

Spread a layer of peanut butter on one cracker, top with another cracker until all the crackers are used up.

Melt the chocolate almond bark in a microwave safe bowl for 1 minutes, then stir. If there are small lumps when you first take it out, just keep stirring to see if they melt.

Heat in 30 second increments until the chocolate is melted.

Dip the crackers in the chocolate and let the excess drip off.

Lay on the waxed paper to cool.

Immediately add the sprinkles if you desire.

Once cooled, you may melt the vanilla almondbark as above and decorate the tops of the cookies as desired.
Pin for Later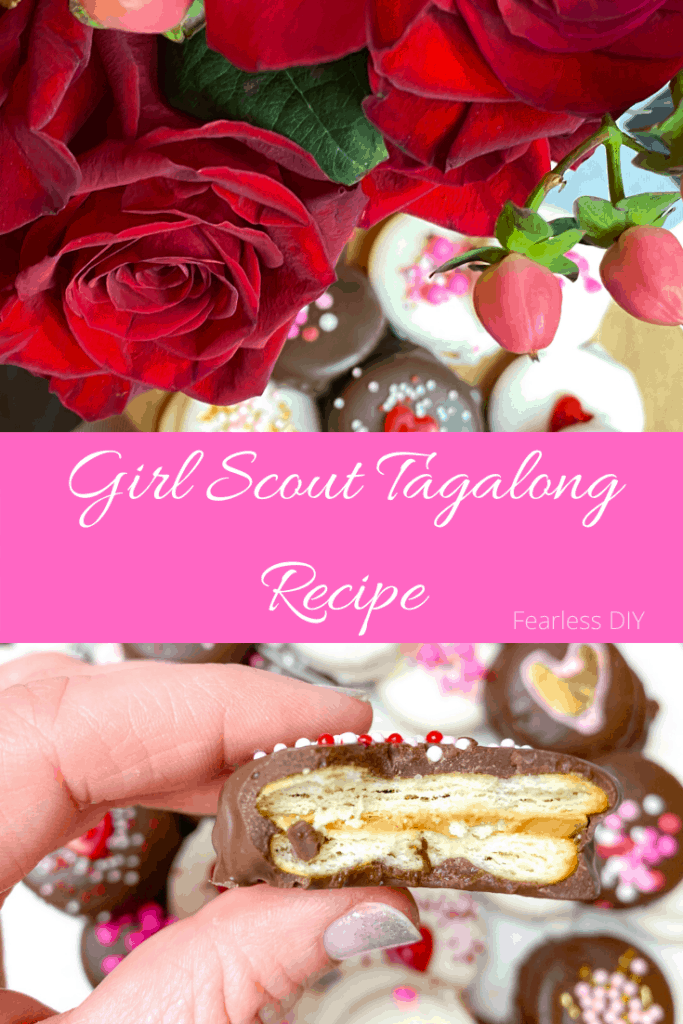 Let me know if you try them out!
Emily 🙂