I am bringing you all along as I try out Rent the Runway Unlimited for one month. This time I sent two back and received two new pieces. I find that if I send two and keep two I can rotate frequently enough to have something new to wear each week.
Check out Part 1 where I tried on the first four pieces I received including a blue sequin dress for New Year's Eve!
Reviews on Rent the Runway
This is the gold mine on this website! Women who have rented the pieces write a review about sizing, material, neckline, etc. The best reviews include a picture of them wearing the clothes. They usually provide their normal size and the size they ended up wearing to assist you in choosing the right size for yourself.
Below is a dress I'm interested in renting for myself. The listing shows the dress on a smaller model and a plus-size model so you can see the different fits for yourself.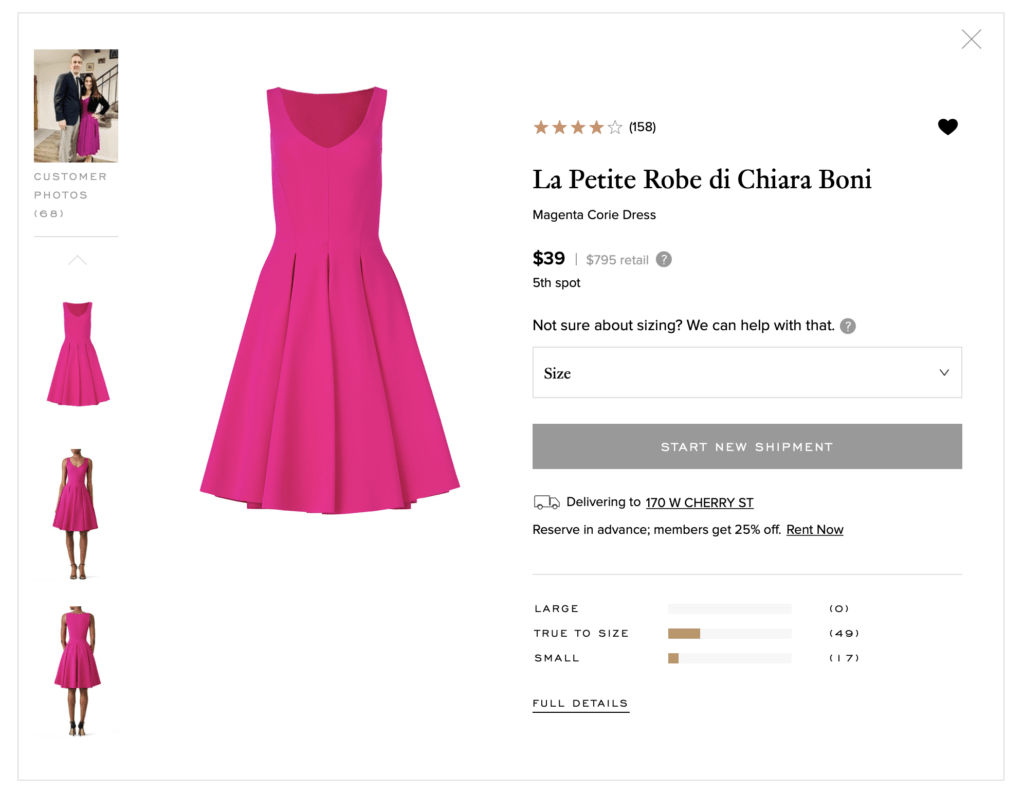 RTR will let you pick between sizes if they are available. They keep track of what people review and how the sizes run. Then they make a suggestion for you when checking out on their best guess on the perfect size for you.
Below is a renters review on color, size and what she would do differently next time.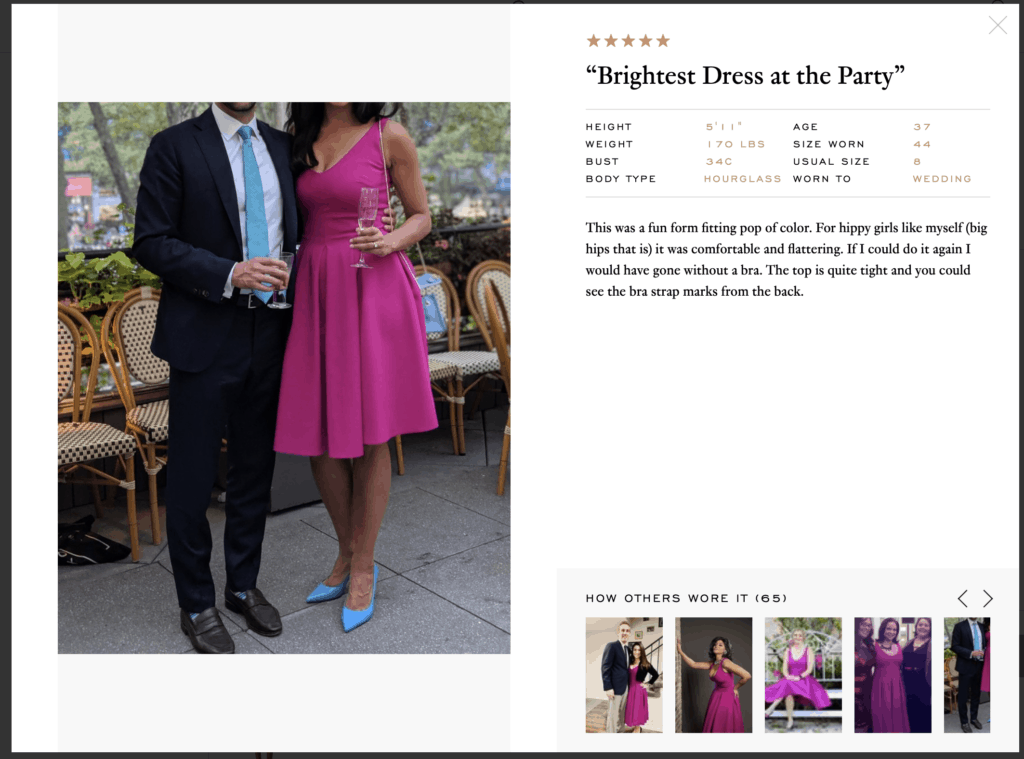 Unlimited does not provide a back-up size though, so if it is too small, then that is a wasted rental. I've worn several things that were a little too big, but I didn't mind. The worst was when all four pieces that came were too small! I was so bummed and learned my lesson to look at the reviews first.
Recent Rent the Runway Rentals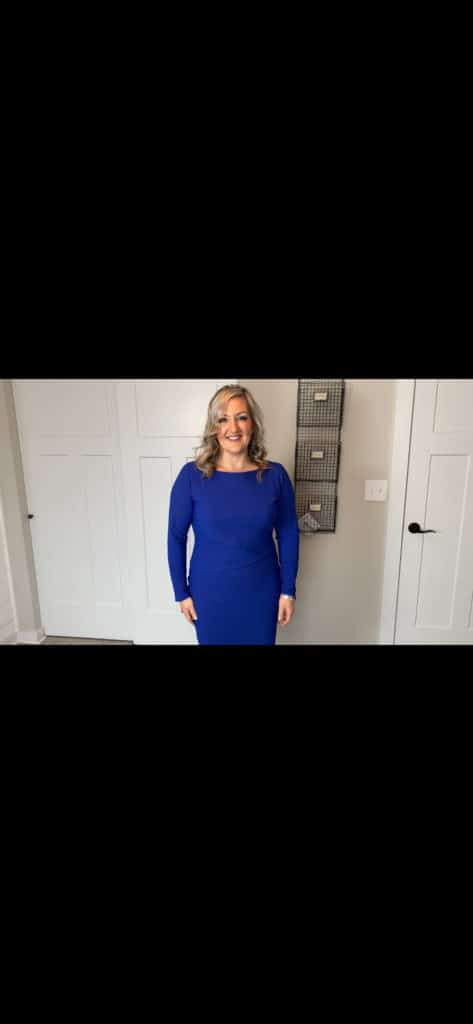 I love this cobalt blue dress! It's from one of my favorite designers La petite Robe de Chiari Bona. This is one of the benefits of this service, you get to learn about new designers and types of clothing. Never before would I have even tried on a dress this expensive…well except for my wedding dress! Now I know what high end pieces I will look for online.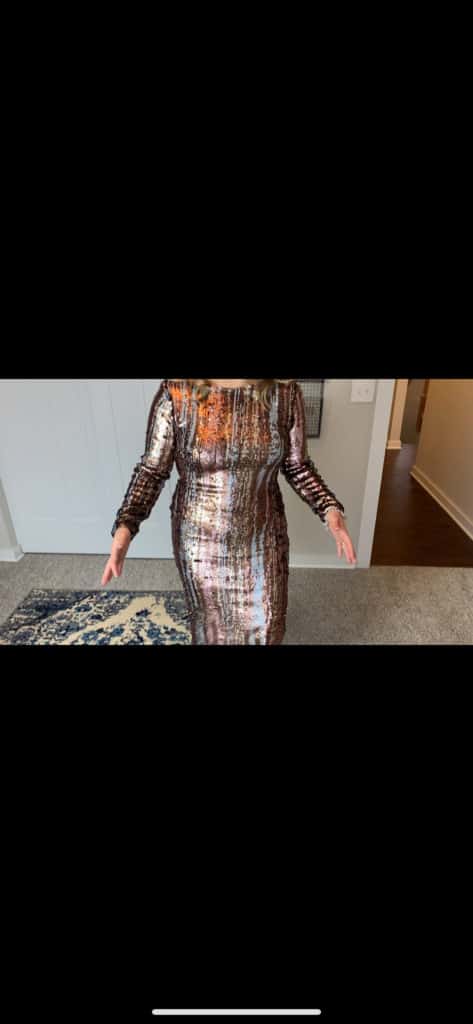 This dress and pattern are totally out of my comfort zone. Now I try to push things a little more and step out of my normal style. When I tried this one on, my husband asked where I was going to wear it. I said "to work, of course. Why, doesn't it look like a work dress?" He said "yep, if you work in Las Vegas!!" Men….
I definitely wore it to work with a labcoat!
Discount on Rent the Runway Unlimited
Click here to get $100 off on month of Rent the Runway Unlimited! That makes it only $59 to try this awesome service. The deal is only good until 1/25/2020 though, so if you've ever thought about trying it out, now is the time!!
Let me know if you have any questions or comment on your experience! I would love to know your favorite piece you rented.
Emily 🙂