Learn how to make the best greens almondine using fresh green beans, garlic, onion and slivered almonds. This recipe will change your mind about fresh green beans if you do not already enjoy them.
Jump to Recipe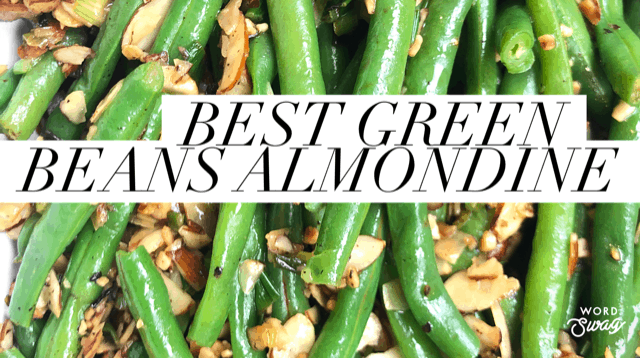 Fresh vegetables are sometimes hard to incorporate in your family if you have picky eaters. It is wonderful in the summer months to be able to stop by a local farm stand or your store and prepare delicious recipes from the fresh produce. In the winter, fresh produce tends to become more expensive, but green beans price never skyrockets, so they will be an affordable option, no matter the time of year.
Tips for making green beans almondine
Be sure to set a timer for the parboiling of the green beans. There is no easy way to tell if they are done, so setting a timer insures that they are not overcooked.
Start the water boiling before you do anything else. Once the ingredients start cooking in the skillet, this process moves pretty quickly.
Variations for green beans almondine
You can try any nut that you like with this recipe. My sister happens to be allergic to almonds, so when I am making it for family functions I use pecans. Personally I love pecans, so this makes me happy too! Walnuts would be delicious as well.
This recipe uses olive oil but coconut oil would work just as well.
How long do green beans last in the fridge
These do well for 3-4 days in the fridge. They never last that long around our house though! They are so good that I will chop them up and add them to my egg white omelets for breakfast.
Green Beans Almondine Recipe
You will need:
1 tbsp. Olive oil
2 cloves garlic, minced
1/2 cup onion, chopped
1/4 almonds, slivered
1 tbsp. margarine
1 lb fresh green beans
Green Beans Almondine Recipe
Green Beans Almondine
Make fresh green beans even more delicious using garlic, onions and almonds.
Ingredients
1

tbsp

olive oil

2

cloves

garlic

minced

1/2

cup

onions

chopped

1/4

cup

almonds

sliced

1

lb

green beans

1

tbsp

margarine
Instructions
Put a large pot of salted water on to boil.

Fill another bowl with water and ice.

Wash and trim the ends of your green beans.

Mince the garlic and chop the onion.

Add green beans to the salted water and parboil for 3 minutes. Be sure to set a timer! Remove at the end of 3 minutes and place immediately into the ice bath. Drain when cooled completely.

Put olive oil in the pan and heat until get a sizzle when putting a drop of water in the pan.

Sauté garlic and onion in the olive oil until the onion becomes transparent.

Add the almonds(or other nuts) to the pan and cook just enough to lightly brown the nuts.

Add the margarine into the pan.

Put the parboiled green beans into the pan and mix together, just long enough to allow the green beans to warm up, but not cook much further.
Notes
This recipe works just as well with other kinds of nuts. Personally I have used pecans to rave reviews.
How you cook a vegetable completely changes its flavor profile. A steamed veggie tastes much different than a roasted veggie. Blanching a vegetable cooks them, but leaves them with a little crunch, no sogginess. It is important to put them in an ice bath as soon as they finish cooking to halt the cooking process.
I hope you give these a try and end up loving them like I do!
Go out and try something new….even if its just a new vegetable!
Emily 🙂