Decorating for the holidays can add up quickly so I put together a budget Thanksgiving floral centerpiece tutorial. This arrangement is made from a leftover halloween pumpkin, Aldi's flowers and found dried flowers from a nearby field.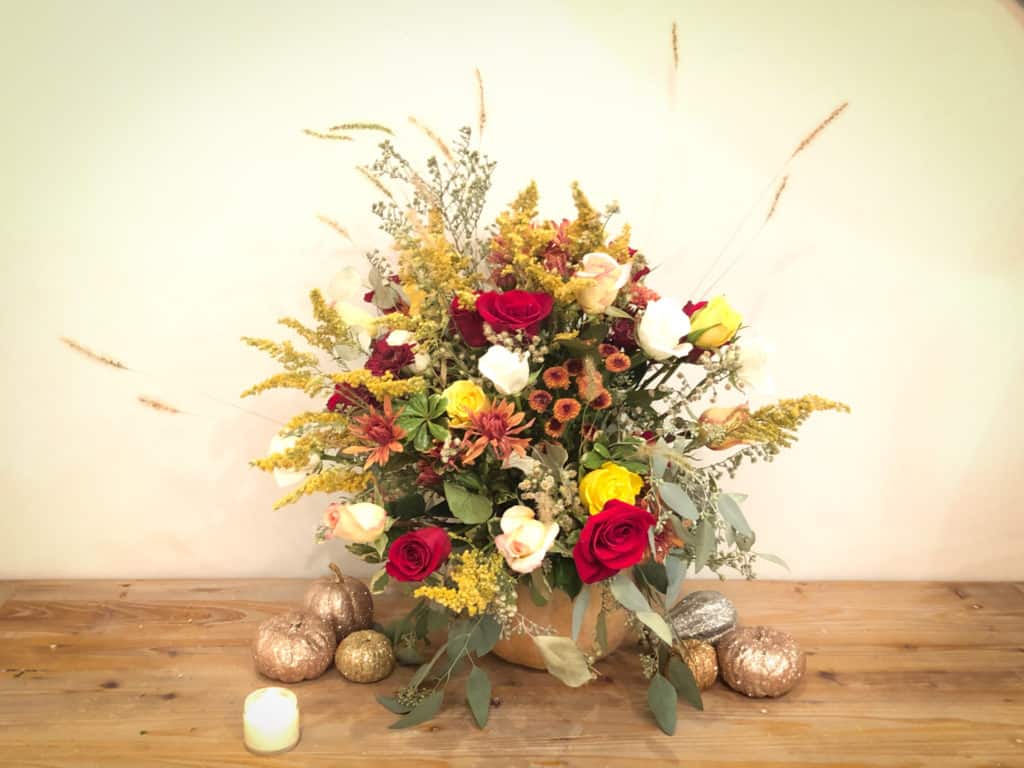 Everyone has leftover pumpkins after halloween and even if you didn't buy one, I bet someone you know has one they would gladly give you! Earlier in the fall I harvested some goldenrod and other native foliage to add to wreaths and arrangements. Then hung them upside down in my basement to dry and pulled it out to add another element to this arrangement.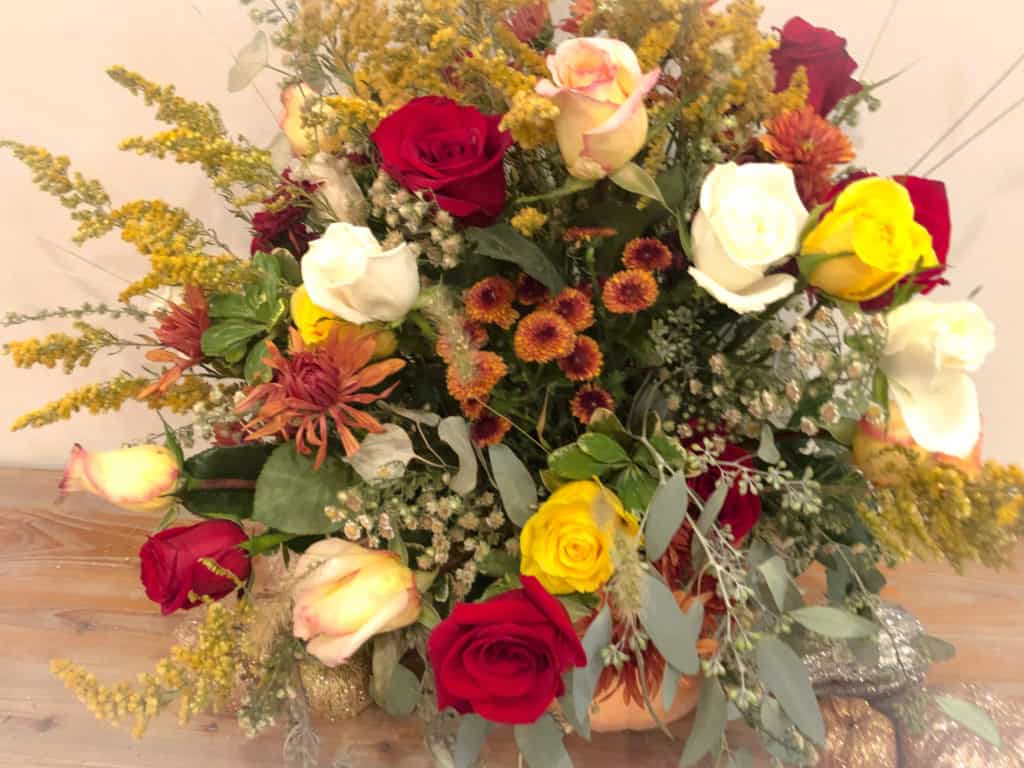 Whenever I received flowers that contained eucalyptus, especially the seeded kind, I saved it out of the arrangement and dried it. That stuff is crazy expensive! If you have a Trader Joe's nearby, they do have regular eucalyptus for a reasonable price.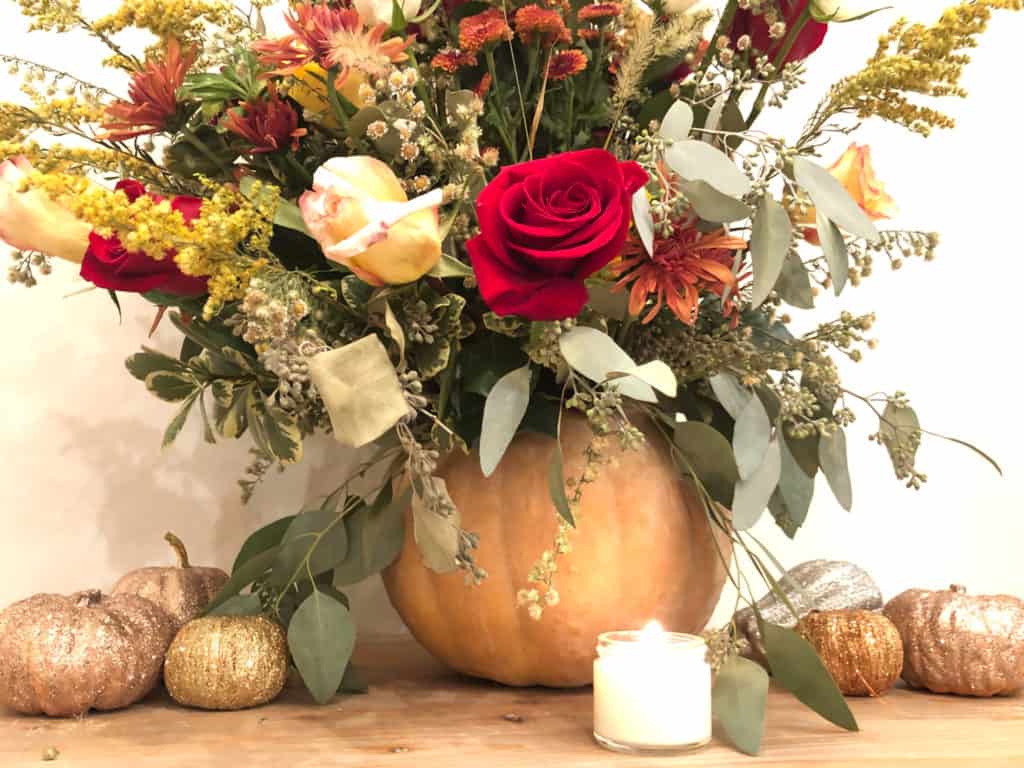 I started making flower filled pumpkins a few years ago when my mom assigned me the task of providing the decor for the Thanksgiving table. It's easy and frugal when you are using things you already have on hand or nature provided for you.
SUPPLIES TO MAKE A THANKSGIVING FLORAL CENTERPIECE:
Pumpkin
Dried flowers/natural elements (berries, wheat, goldenrod, pinecones)
Fresh flowers from a local supermarket
Floral foam ball
TOOLS YOU MAY NEED:
Scissors
Spoon to scrape out the seeds of the pumpkin
Knife to cut the pumpkin open
SHOP THIS POST:
HOW TO MAKE A BUDGET THANKSGIVING FLORAL CENTERPIECE VIDEO TUTORIAL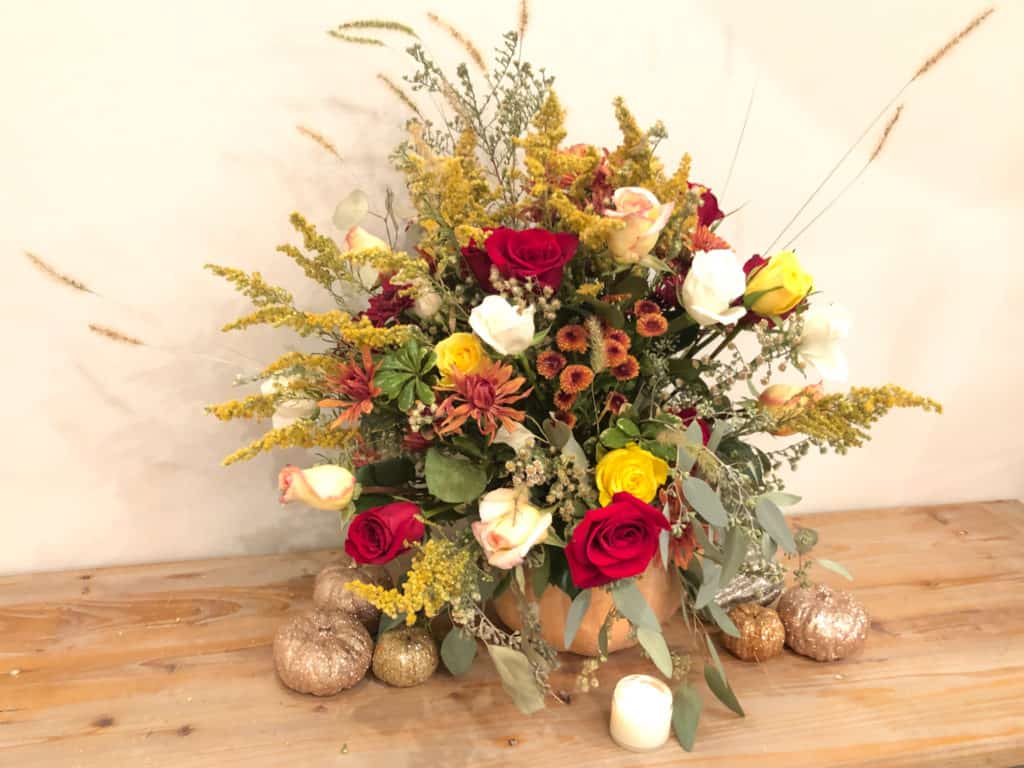 HOW TO MAKE A THANKSGIVING CENTERPIECE:
Cut off the top of the pumpkin. Remove the seeds and the stringy pumpkin. Add to your compost or bake the seeds for a yummy snack!
Place the floral foam into the cavity of the pumpkin.
Start with the largest elements and place evenly.
Add in the next large filler pieces.
Rotate the pumpkin often to ensure it's being filled evenly.
Start placing your "star" pieces. For this arrangement it was the roses.
Lastly place the smaller filler pieces to fix any holes that show up.
Water every day
Enjoy your new pumpkin centerpiece.
Some people may point out that I used "weeds" in my arrangement, but I would argue that beauty can be found anywhere! I loved the look the dried goldenrod provided my tabletop and would not hesitate to use it again in the future. So go out, look around you and utilize those simple things you have access to.
Emily 🙂