Creamy dishes are hard to recreate when you are dairy free until you learn about the magic of one ingredient-full fat coconut milk! We have used it in everything from sausage gravy to macaroni and cheese to get that creamy texture we all crave.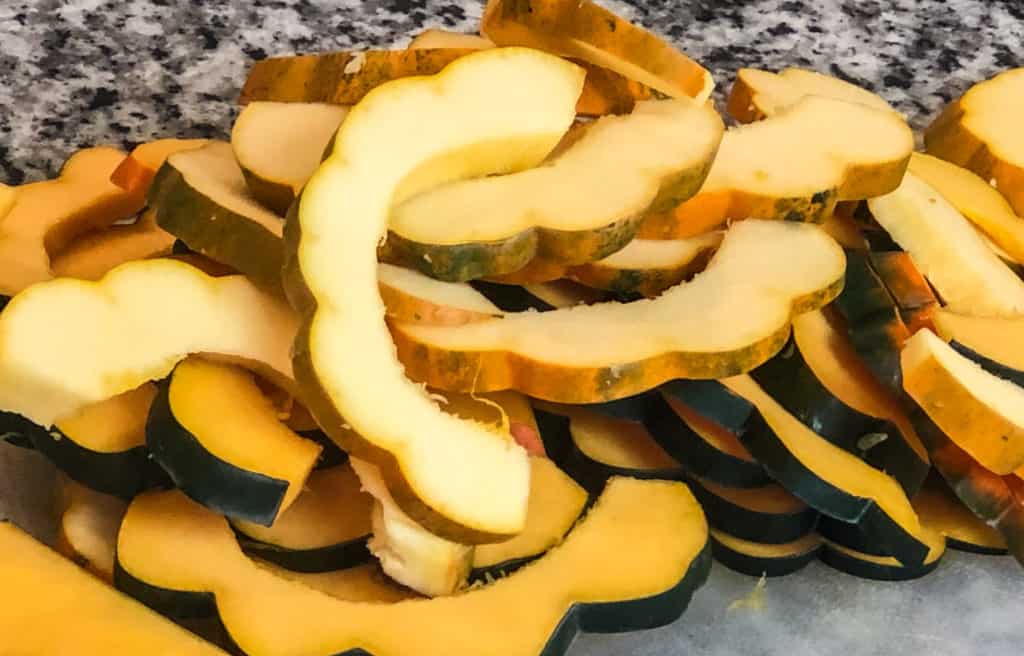 This dairy free scalloped dish is a perfect side for the holidays. You can make it with butternut squash or potatoes. It is delicious over zucchini or ladled over turkey! You cannot go wrong with a decadent cheese sauce.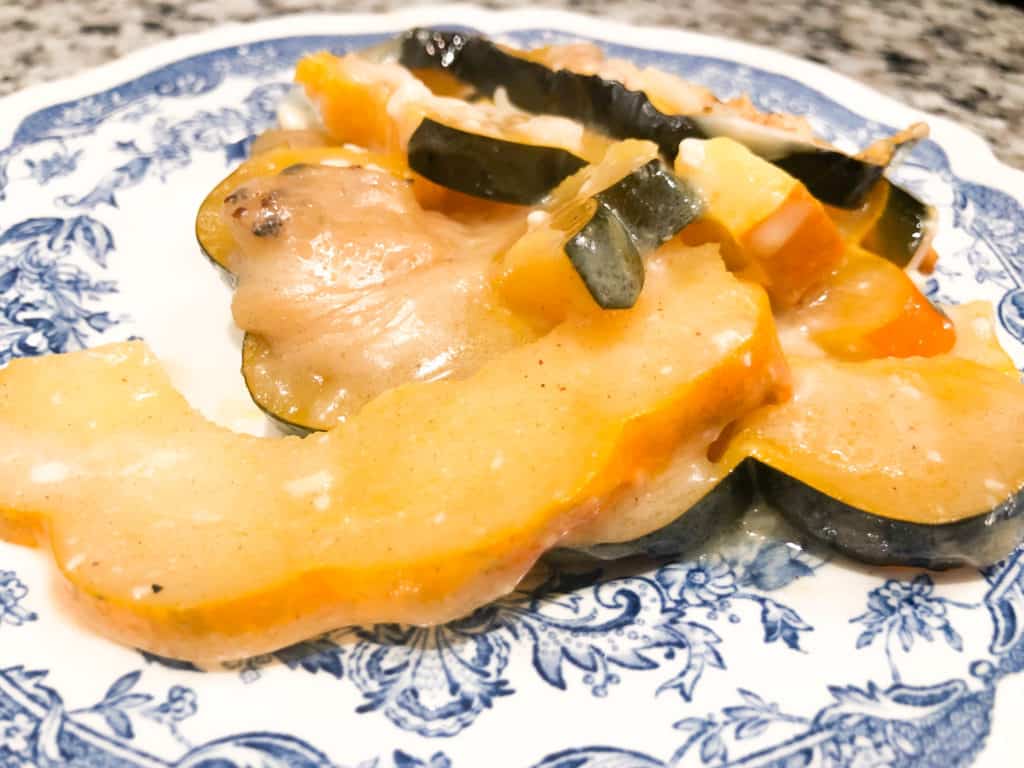 See below * for what I would do differently the next time I make this dish. Because believe me….there will definitely many more times I make it, including this Thanksgiving where I will use butternut squash.
Recipe for Scalloped Squash:
Dairy Free Scalloped Acorn Squash
Creamy, decadent scalloped squash side dish in one pan! Dairy free version of recipe from the Fall issue of the Magnolia Journal.
Ingredients
3

tbsp

Smart Balance margarine

½

cup

chopped onion

2

cloves

garlic

minced

3

tbsp

all-purpose flour

1

cup

chicken stock

1

cup

full fat coconut milk

½

tsp

grated fresh nutmeg

2

acorn squash

halved, seeded and cut into ½in slices

1 ½

cups

goat cheese mozarella

finely shredded

1 ½

cups

Daiya provolone

sliced

½

cup

fresh sage leaves

chopped

Dash

cinnamon

salt and pepper to taste
Instructions
In your Dutch oven, melt butter over medium.

Add onion and garlic, cook and stir until the onions start to sweat (3-4 minutes).

Stir in flour, cook and stir for 1 minute. Add chicken stock and stir or whisk for 3 minutes.

Stir in full fat coconut milk and nutmeg. Remove from heat and transfer to a bowl.

Layer half the squash, half the sauce, half the cheese and half the sage in the Dutch oven. Top with remaining squash, sauce, cheese and sage. Sprinkle with cinnamon, salt and pepper.

Bake, covered for 30 minutes. Uncover and bake 25-30 minutes more until squash is tender and sauce is golden brown. Sprinkle with additional pepper.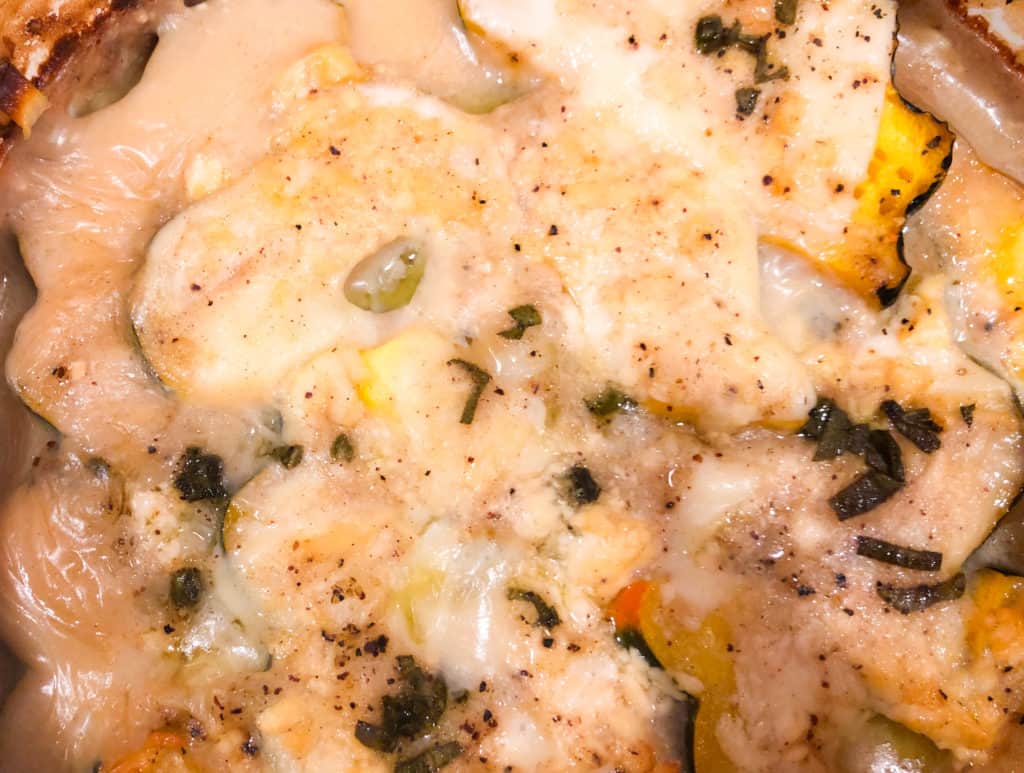 Video tutorial: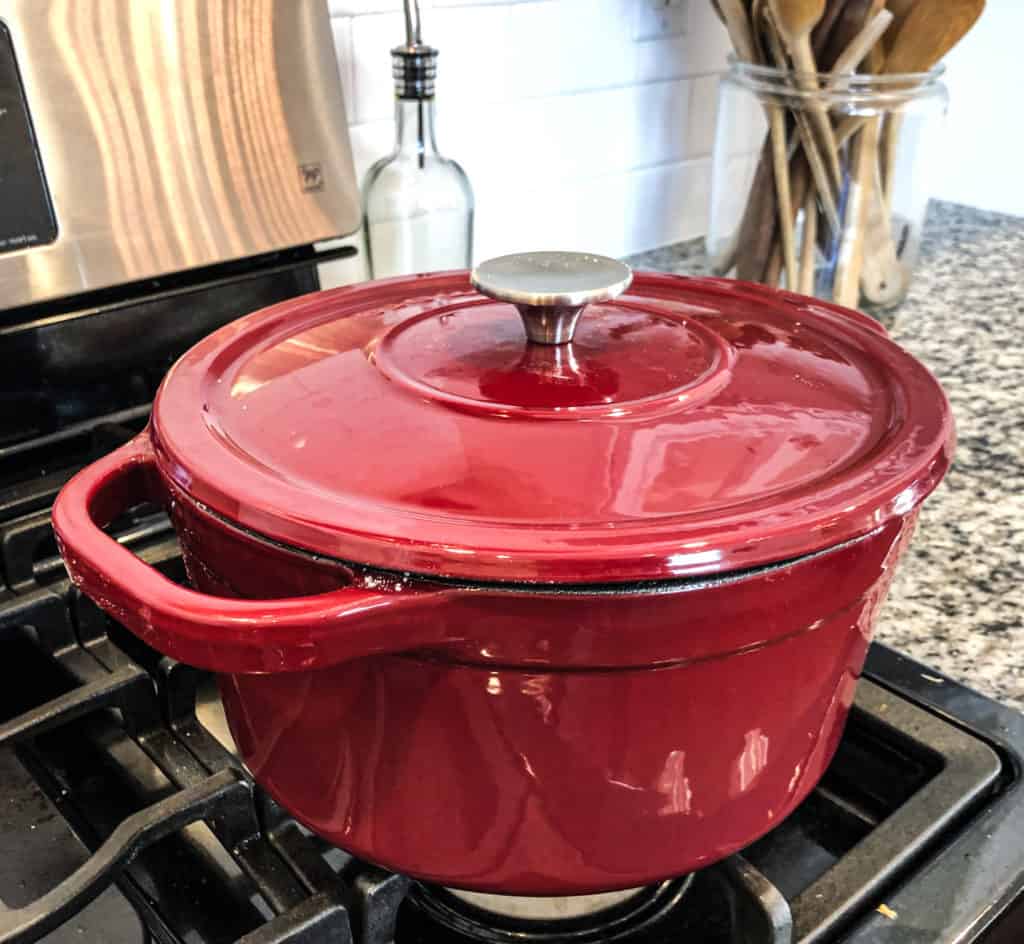 Shop this post:
Red buffalo plaid dish towel
Some links in this post are affiliate links, which means that I may make a small commission on purchased products at no additional cost to you!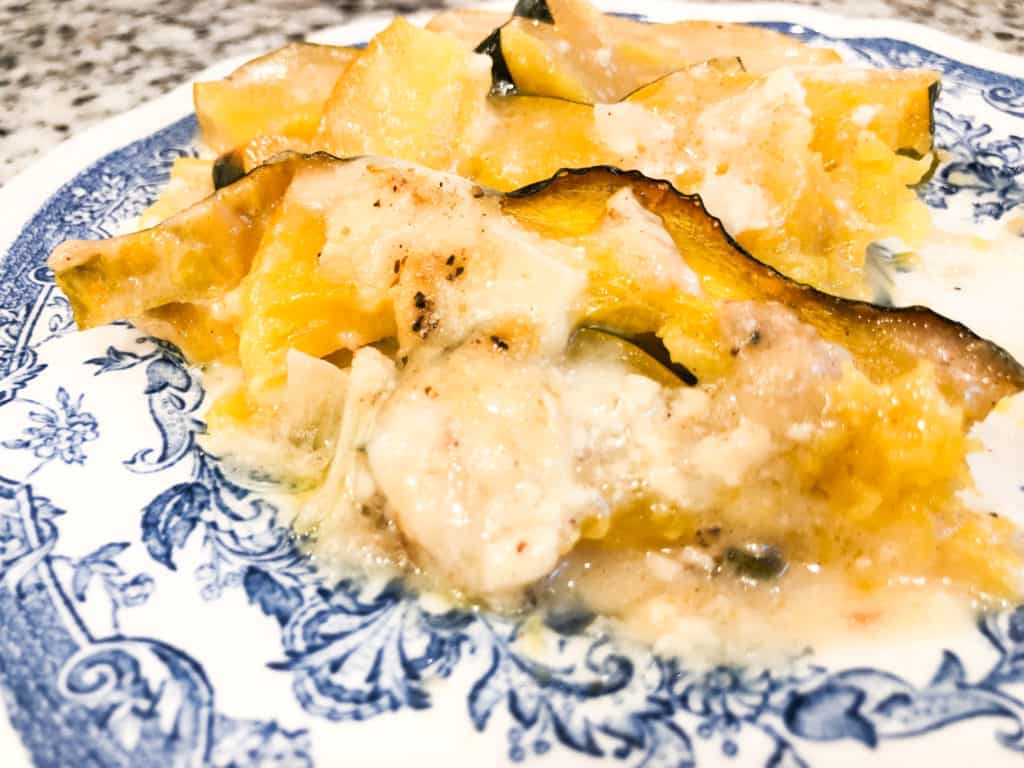 *What I would change:
The original recipe called for leaving the skin on the acorn squash. When it first come out of the oven, the skin on the squash was very soft and easy to eat. My husband loved everything about the dish except for the skin. The next day, the skin became more chewy and was unpleasant so I had to pick out every bit of skin.
So I would peel any veggie that I was going to add to this recipe. You don't want anything coming between you and this amazing sauce!
Go out and try a new veggie with this recipe. It'll be a perfect way to introduce something outside your families normal green beans. Although, now that I think about it, this would be an amazing green bean casserole!
Emily 🙂