This recipe is a dairy free version of the amazing bread from Joanna Gaines fall issue of the Magnolia Journal. Going dairy free is easiest when you have great substitutes that don't affect the flavor or the texture too much. For me, baking is the hardest arena to conquer since having to give up dairy over ten years ago.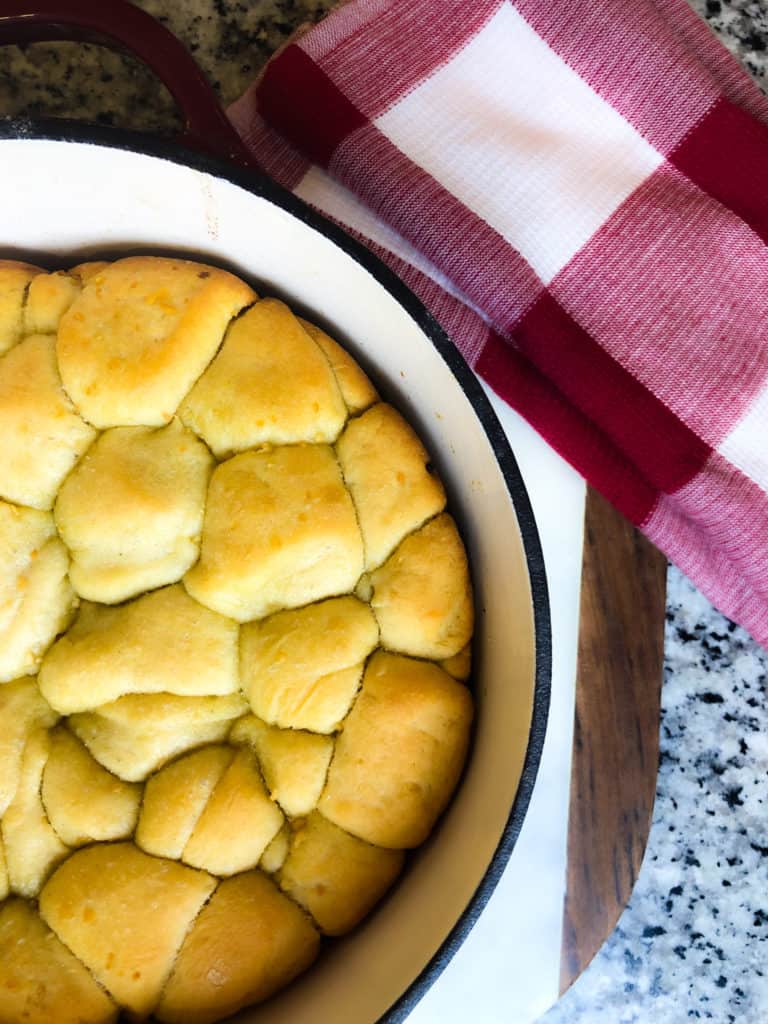 Butter just makes everything better! Cookies are crispy, bread is succulent, everything it touches is delicious. So what do you do when most margarines cannot compare in taste or texture? You try every single one out there, until you find the best one you can!
Smart Balance has been my favorite hands down on flavor. The first time I had it was on some baked zucchini and I could not believe the taste! Since I started going back to Weight Watchers though, I have switched to Smart Balance Light.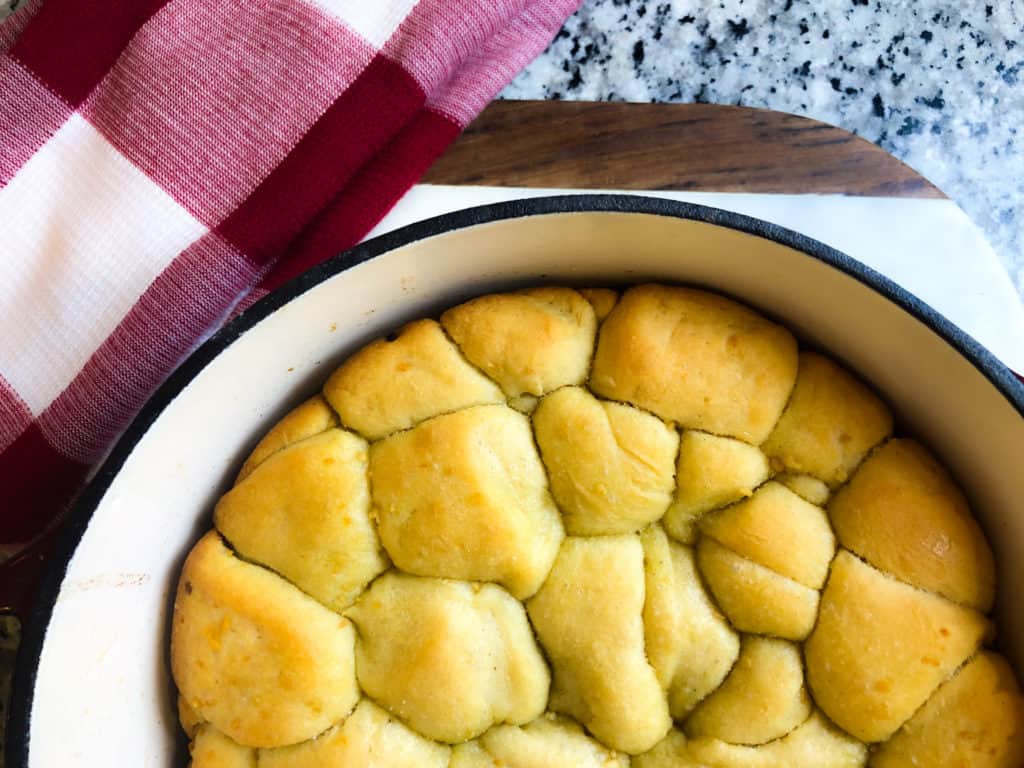 I have tried some vegan butters as well that are delicious such as Miyokos vegan butter, but it is 5 points/serving versus Smart Balance Light at 2 points/serving.
The water content in margarine is a lot higher than in butter, so it can absolutely throw off your recipes if you do not adjust for it a little. This recipe does fine with an even swap.
Recipe for Dairy Free Herb Pull Apart Bread(Joanna Gaines original recipe)
Dairy Free Herb Pull Apart Bread
Dairy free version of Joanna Gaines herb pull apart bread from the Fall issue of Magnolia Journal
Ingredients
1

cup

warm water

( 105° F to 115° F)

2

tbsp

sugar

1

pkg

active dry yeast

5-6

cups

bread flour

1

cup

cashewmilk

(or milk substitute of your choice)

2

tbsp

Smart Balance margarine

Regular, not light when baking

1 ½

tsp

kosher salt

½

cup

Smart Balance margarine

melted

1 ½

tsp

dried rosemary

(2 TBSP if using fresh)

4

cloves

garlic

minced
Instructions
In your mixing bowl add the yeast, sugar and water. Let sit for 5-10 minutes or until it gets foamy.

Add 3 cups flour, the cashewmilk, 2 tbsp softened butter and salt, beating with a mixer on medium for 2 minutes.

Keep adding flour in a little at a time, until a dough ball forms and it does not stick to the sides of the bowl.

Turn out the dough onto a floured surface and knead in enough flour to get a smooth, elastic dough.

Melt 6 tbsp of the Smart Balance. Add the rosemary and garlic.

Pat dough out to 1-inch thickness. If you are having difficulty in getting it stretched out, let it rest for 5 minutes and try again.

Cut dough into 1 inch pieces.

Dip pieces into the butter mixture and line the Dutch oven with the pieces.

Cover and let rise in a warm place until doubled in size-around 1 hour.

Preheat oven to 350°F. Place lid on Dutch oven. Bake 30 minutes, then take lid off for last 15 minutes or until golden brown.

Cool in Dutch oven for 10 minutes. Brush top of bread with the remaining 2 tbsp melted butter and sprinkle with kosher salt.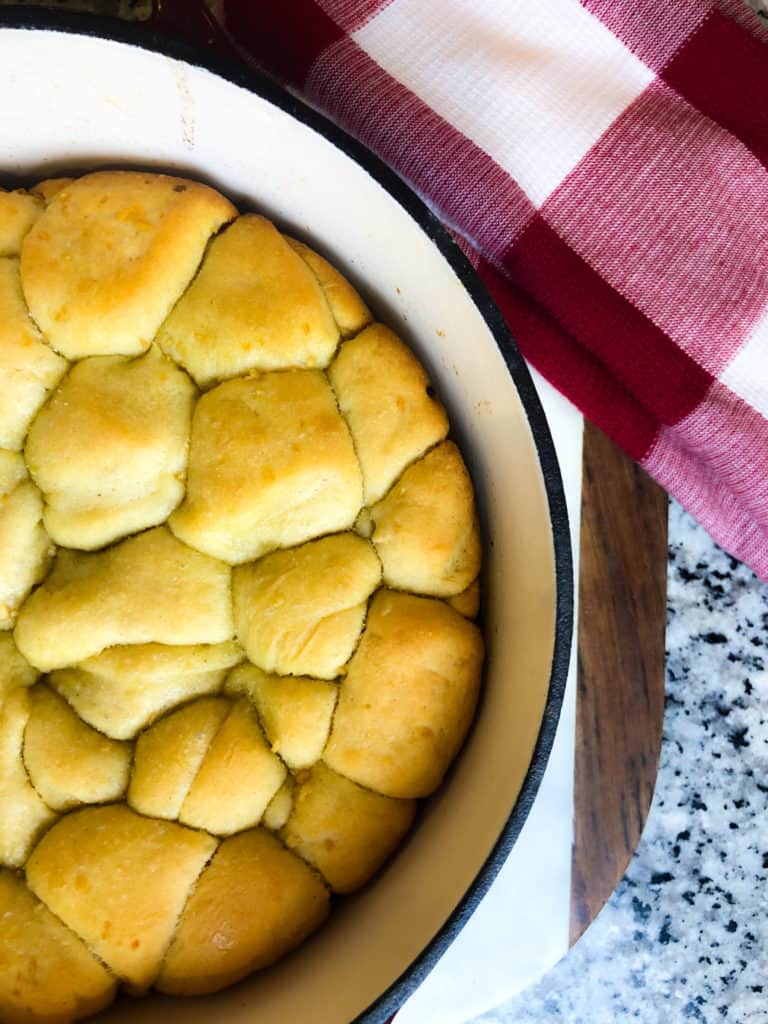 Video Tutorial
Variations on the pull apart bread:
Dip in margarine, then cinnamon sugar. Once you take it out of the oven, drizzle warm maple syrup on top for a sweet pull apart bread.
Add 1 cup Daiya cheddar cheese to the dough to make a cheesy herbed bread.
This bread would go wonderfully with this recipe for Italian Chicken or with any holiday gathering.
Shop this post:
I hope you enjoy this delicious bread recipe! Let me know if you try it.
Em 🙂