Decorate along with me in this step by step tutorial of how to decorate a flocked tree. I always watch the "getting ready with me" makeup videos and I really enjoy them, so I thought I would try decorating a tree and chatting with you!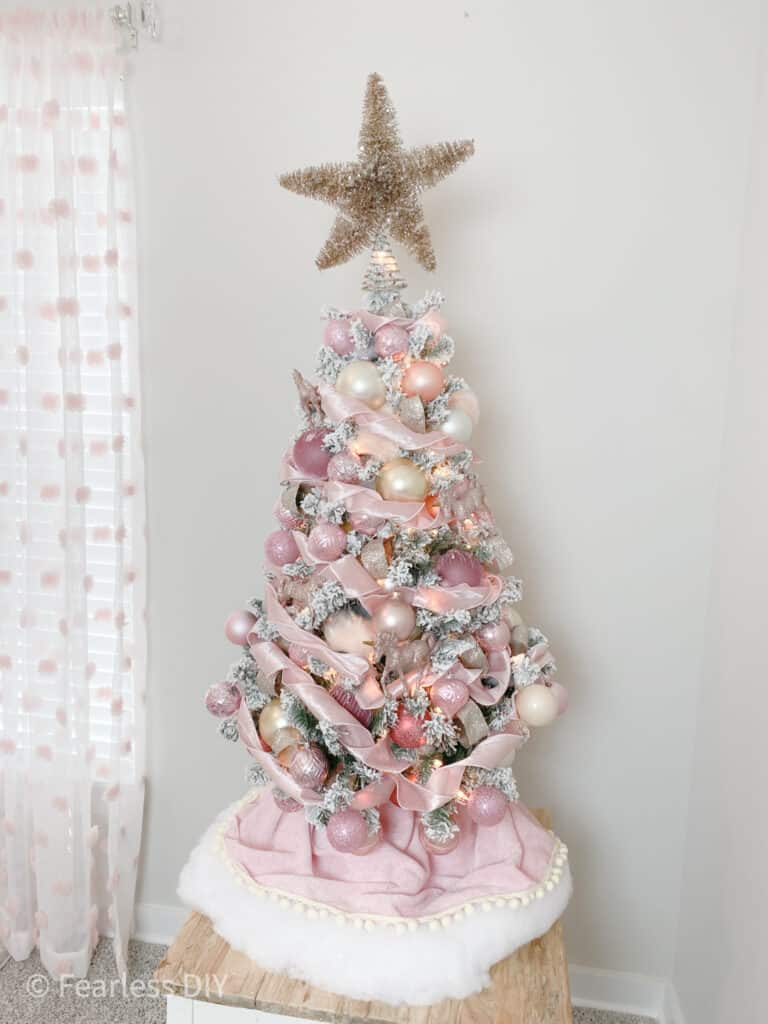 If you want to learn how to flock a Christmas tree, see my post "How To Flock A Christmas Tree". I love flocked trees, Charlie Brown trees or the tree at Rockafeller plaza in New York City. However, I was shocked to find out that my husband does NOT like flocked Christmas trees!!! He has helped me flock multiple trees and other decor. Not once did he say a word! MEN!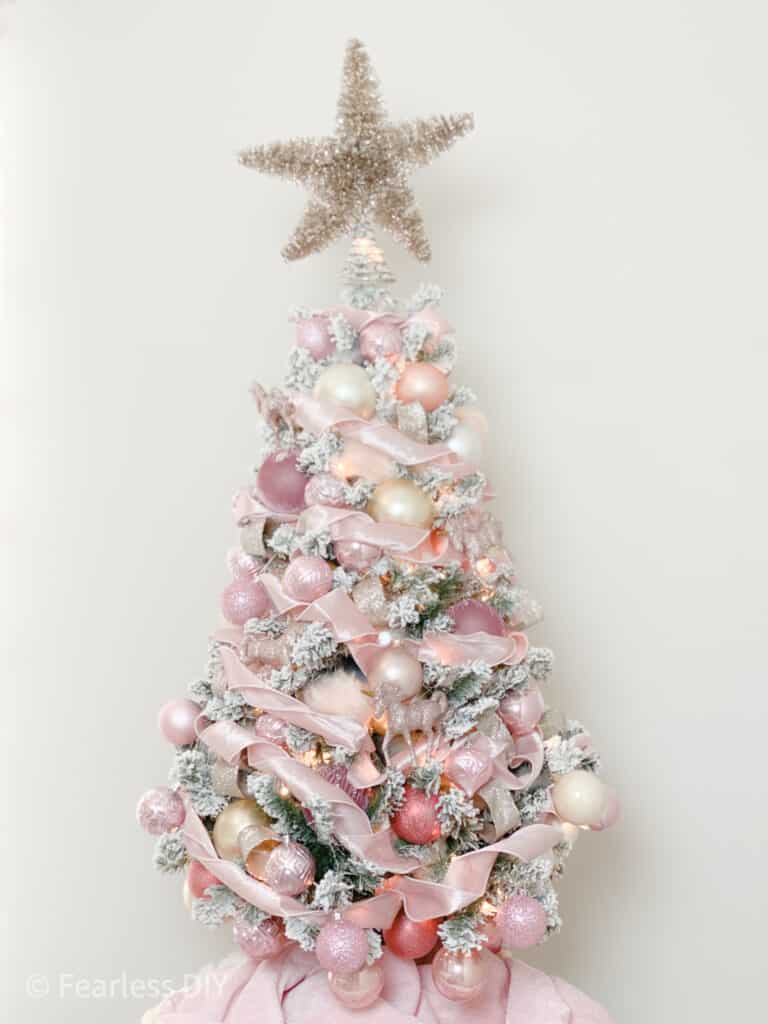 So, I'm leaving our bedroom completely flock free. I'm thinking rustic, tree farm type theme in there. So he will be able to rest without even a hint of snow. Maybe it's because he hates the cold weather?
Video Tutorial
Steps to decorate a flocked tree
Start with the snow blanket to provide some fullness at the base or just place your tree skirt there.
Place polyester batting or stuffing into the middle of the tree to fill in any holes and increase the "snow" effect. It's cheap and easy!
Start at the bottom with the large ornaments, filling in the holes, nearer the center of the tree. Leave the edges of the branches for the smaller ornaments.
If using glass ornaments, be sure to wrap the wire hanger all the way around the branch, effectively wiring the ornament to the tree.
Cut the wired ribbon into 18″ strips, wrap around your hand and slowly pull apart. Then place into the tree and tuck the ends into the branches.
If you have less stiff ribbon, then just fold it into a loop and tuck it in between the branches.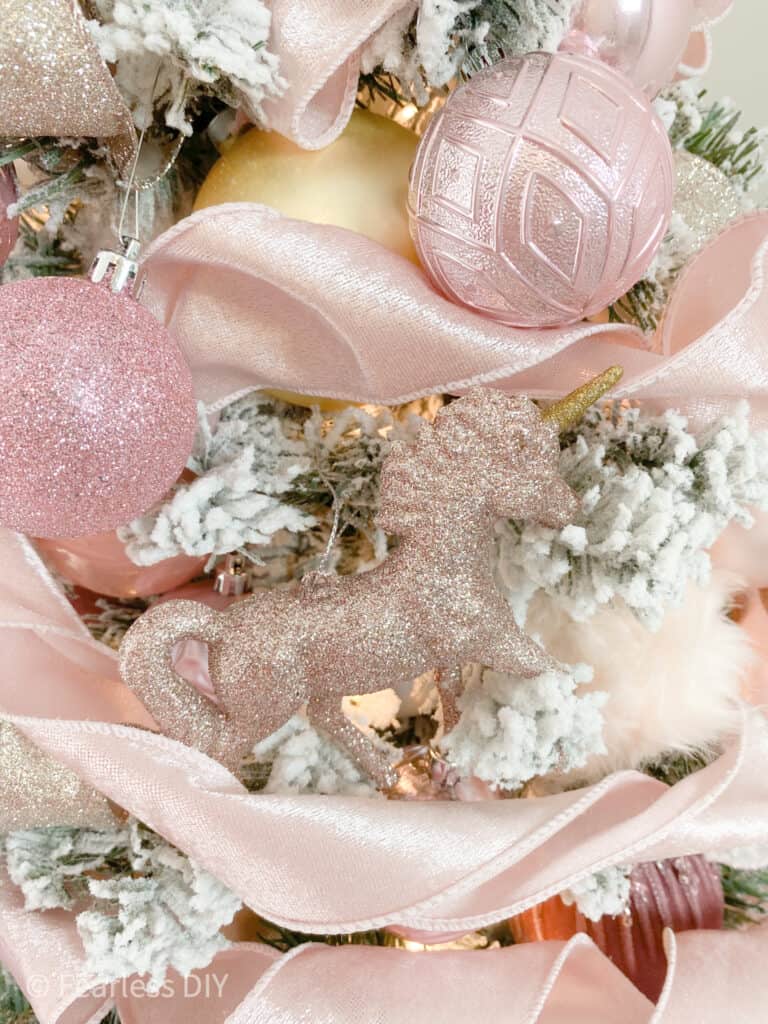 Shopping List for a flocked Christmas tree
Large Ornaments -12
Medium ornaments-24
Small Ornaments-14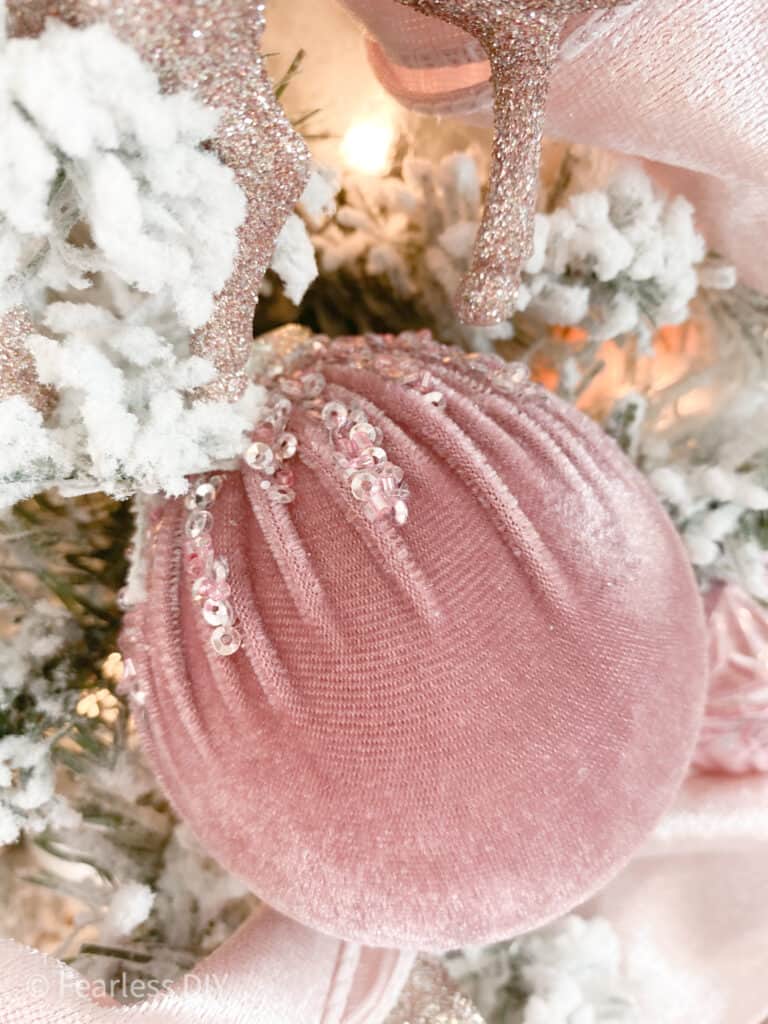 I may have gone a little overboard on the ornaments, but I just love this little tree all pink, purple and glittery!
I hope you enjoyed following along as I decorated this little girl's room pink Christmas tree. Hopefully you learned something useful!
Emily 🙂
Pin for Later