Winter is definitely here in my neck of the woods, which makes me want to snuggle up in a fuzzy blanket, turn on my fireplace and eat a bowl of warm soup. This version of chicken noodle soup is elevated above the norm, because of my two secret ingredients-rotisserie chicken and Mrs. Miller's chicken flavored soup base.
Jump to Recipe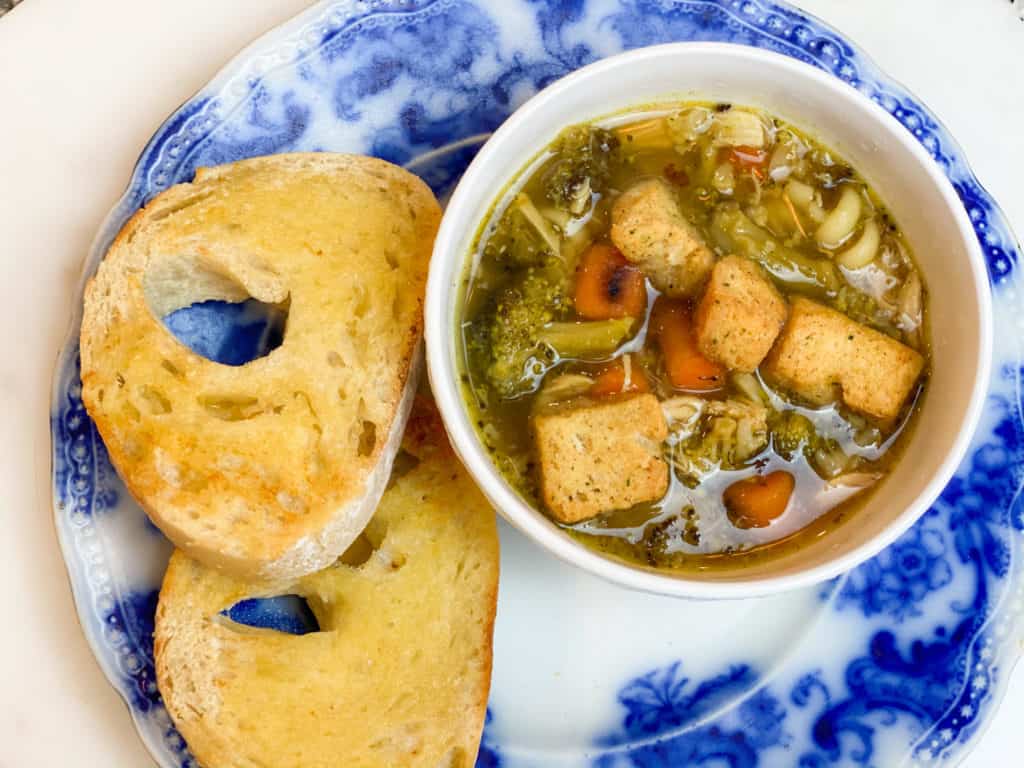 This soup is perfect for a cold day or to help you fight a cold. Even if you haven't liked chicken noodle soup in the past, give this one a try because the flavor is amazing!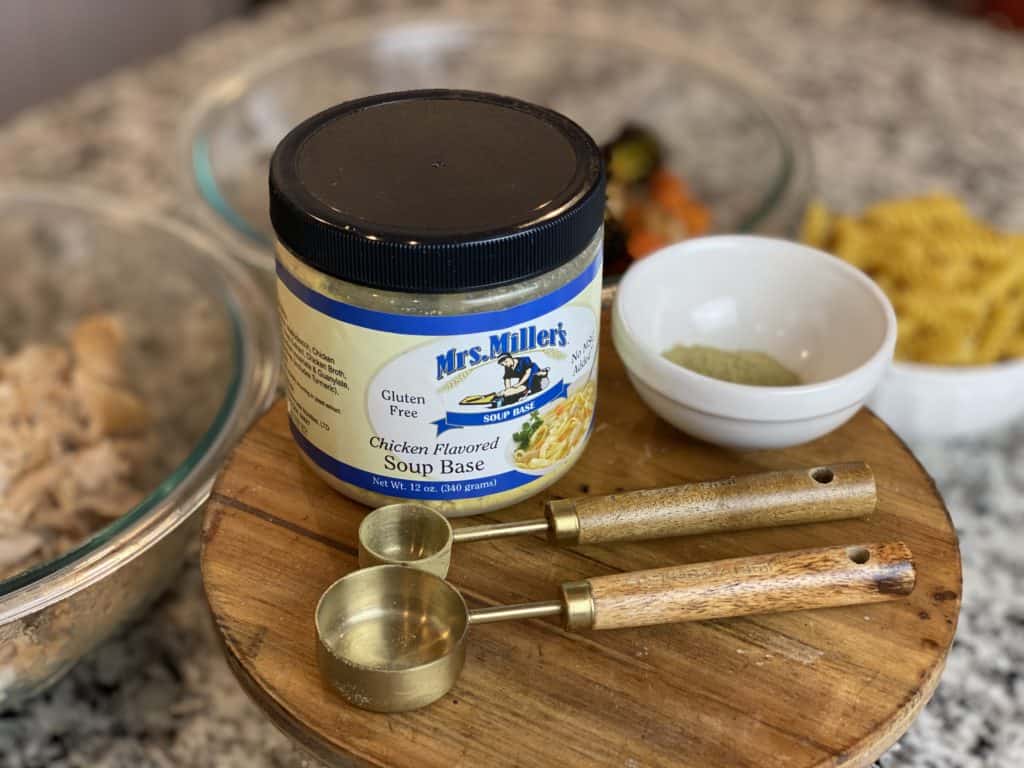 Jump to Recipe
This soup base comes in several flavors, beef, French onion, ham, etc, and I use all of them to flavor vegetable dishes as well. It is available from a local small business that I frequent but it is available online as well.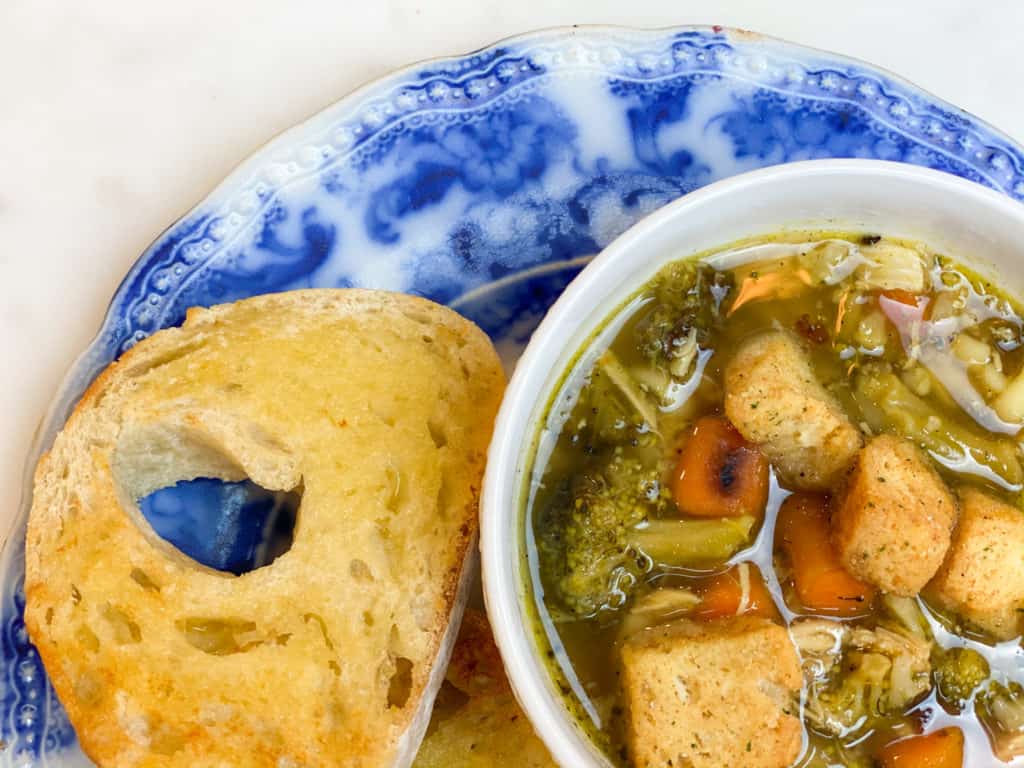 Seasoning makes all the difference in a simple dish like chicken noodle soup. If it isn't properly seasoned, then it can just be boring and bland. That's the reason I always use a rotisserie chicken as well. Boiled chicken has little flavor to me and I never used to like this soup as a child because of it.
My third secret to this recipe is to add roasted vegetables to the soup. Roasting the veggies caramelizes them and lends a depth of flavor not routinely found. I use whatever leftover roasted veggies I happen to have, including carrots, squash, broccoli or cauliflower.
Steps to prepare Rotisseri Chicken Noodle Soup
Buy a rotisserie chicken from your local grocer.
Pull all the meat off the chicken. We will use half of the meat in this soup, so save the rest in an airtight container in the refrigerator for use in another recipe.
Roast veggies if you choose to use them. Chop into small bite-sized pieces. Toss in olive oil, salt and pepper and cook at 425 degrees for 30 minutes or until browned and fork tender.
Make up the chicken stock with Mrs. Millers Chicken soup base with 4 cups hot water and 2 tbsp plus 2 tsps chicken base to start.
Add the chicken and veggies to your soup base.
Add noodles if desired 1 cup.
Add water to desired level, depending on how many veggies you added. I used 4 more cups for a total of 8 and I added the soup base to the water.
Simmer for at least an hour.
Add more seasoning to your taste.
Serve with crusty bread.
Recipe for Rotisserie Chicken Noodle Soup with Roasted Veggies
Rotisserie Chicken Noodle Soup with Roasted Veggies
Ingredients
1

rotisserie chicken-meat pulled off

5

tbsp

Mrs. Millers Chicken Soup Base

plus 1 tsp

8

cups

hot water

to mix with the soup base

2

cups

noodles

1

cup

roasted veggies
Instructions
Pull all the meat off one rotisserie chicken. Put half back in the fridge for further use.

Chop the veggies into bite sized pieces. Toss with olive oil, garlic, salt and pepper.

Roast in the oven at 425° for 35 minutes or until fork tender.

Add the soup base to the hot water and mix until dissolved.

Add in the chicken, roasted veggies and noodles. Stir together.

Sprinkle the rosemary on top and stir thoroughly. Add more to taste.

Simmer on low for one hour.

Keep in refridgerator for 3-4 days or 3 months in the freezer.
How to store soup
Keep in airtight container in the fridge for 3-4 days.
Keep in glass container in the freezer for up to 3 months.
Mark the top of the container with a sticky note or tape with the name of what's inside and the date you put it there. Otherwise it will freeze into a big glob and you'll never remember what it was!
Video Tutorial
Variations for Chicken Noodle Soup
Change the type of noodles you add. My husband likes elbow noodles.
Add 2 tsp ground rosemary to the broth
Switch up the veggies you add to the broth
Serve with croutons on top
Pin for Later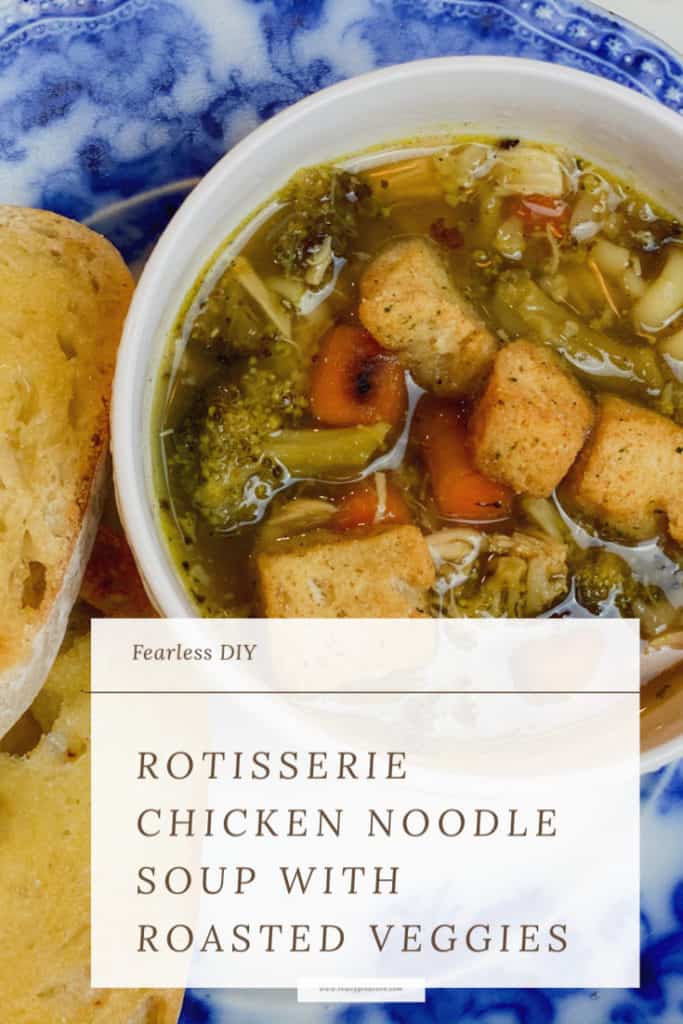 Let me know if you try this recipe for yourself!
Emily 🙂