We completed a charming little efficiency apartment makeover that was in need of a major overhaul. The owner wanted to make it more attractive to renters. It worked as it was rented out within a week after we finished!
The Bathroom Makeover
The scariest part of the apartment was the shower, so we took out the small stall and a storage unit that wasn't very useful and installed a full size tub and shower. We added as much shelving and storage options as possible.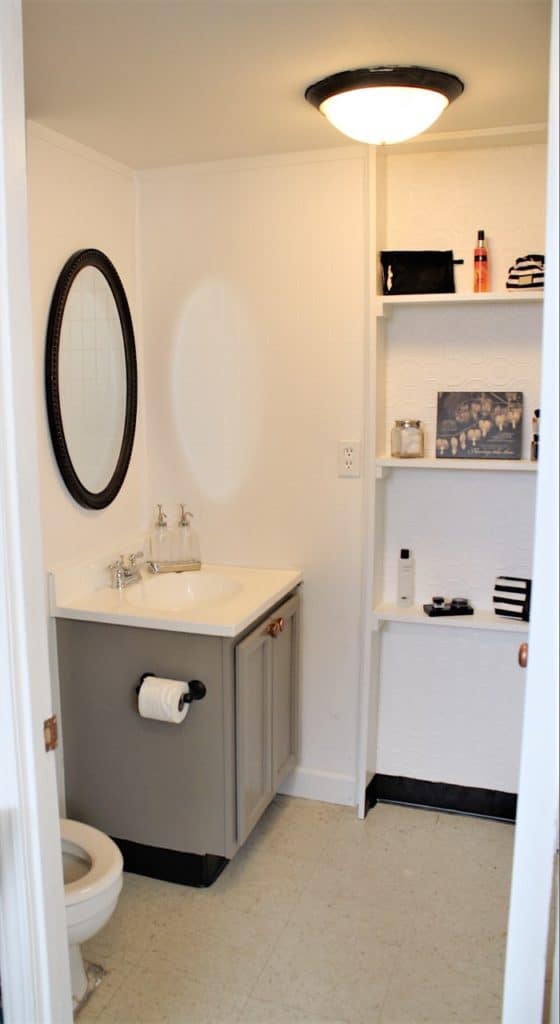 Originally the medicine cabinet stuck out away from the wall because the wall behind it is concrete. I decided to sacrifice the storage for a more streamlined appearance.
before

after
The space above the toilet had a small metal shelving unit that I put in years ago that was not big enough and definitely did not maximize the space available there. My husband used brackets from Home Depot and pine boards again that I stained and sealed. I painted the alcove black because I wanted it to have a little bit of definition.
before

after
The Bedroom Makeover
There was no clothes closet so we had to improvise with two shelving units with drawers and a bar between for clothes. I didn't even know when we got them off Craigslist that they had lights. We got both for $45, painted them and attached them to the wall for stability.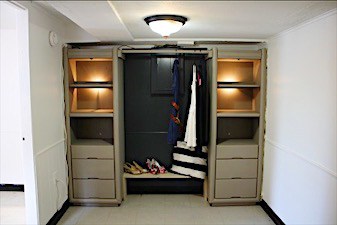 The Kitchen Makeover
It was just fun to get to update the look of the kitchen with open shelving, paint-able wallpaper for a backsplash, painting the cabinets/hardware and refinishing the counter top.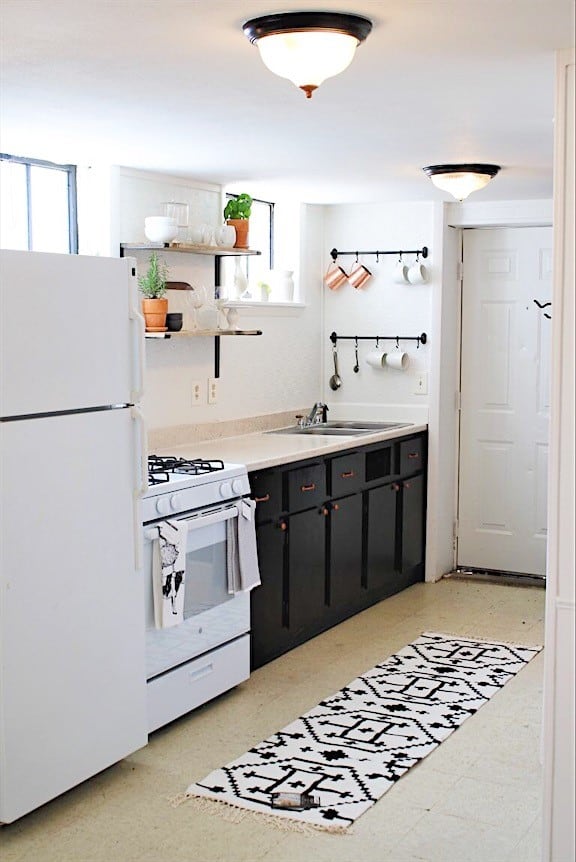 The laminate counter tops had seen better days so I used a Daich coatings Spreadstone Mineral Select counter top refinishing kit in Natural White. This was the second time I have used this particular product and have been pleased with the results each time. At the time of this post, it's been holding up for two years and I will say that the more I work with the product, the better the end result looks. Check out my post about counter top refinishing, here.
before

after
The kitchen had one upper cabinet above the counter and it felt to me like it closed it in too much, so we removed that and added two open shelves. We used the 10 in iron forged brackets from home depot and pine boards that I stained and sealed. The kitchen felt so much brighter and open with the addition of those shelves.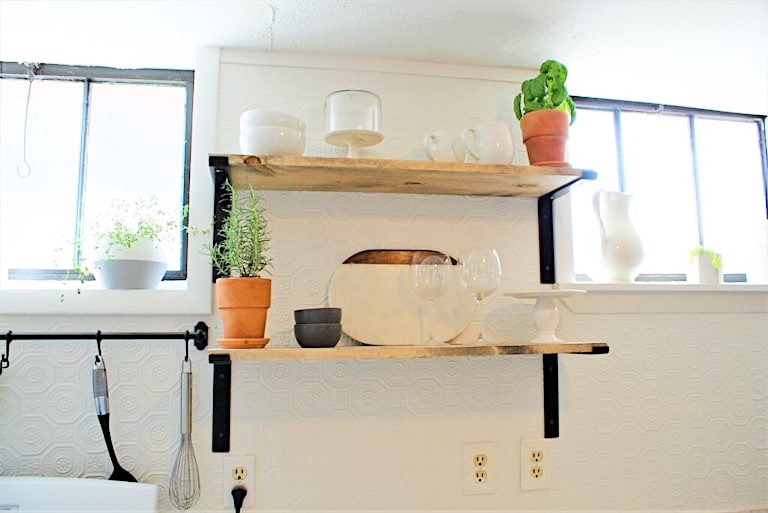 The budget did not extend to adding a tile backsplash, or, well, any kind of backsplash really, but I did happen to have this paintable wallpaper I had picked up at an estate sale on a trip through Georgia for $1! It's incredibly tough, durable stuff and once it's painted, you can scrub it down. The pattern is raised so it gives the whole wall a little bit of texture.
Ikea has the best stuff for small spaces. I ordered the hanging bars from them. There are several other options from there as well.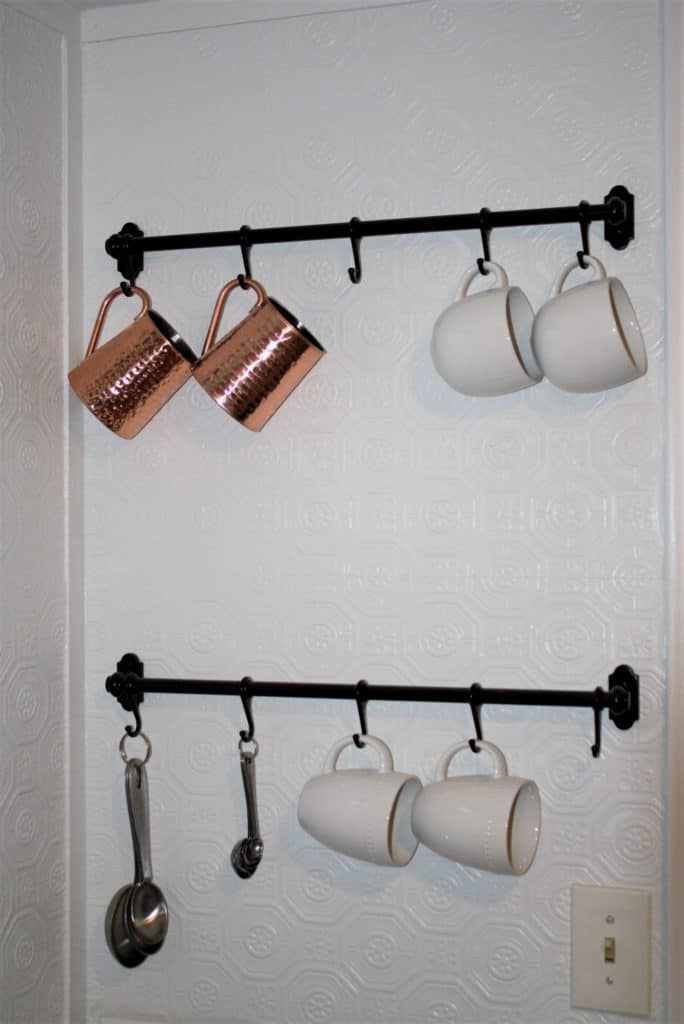 The Pantry Makeover
The owner previously had hookups for a washer/dryer combo, but no tenant had ever brought one with them. We proposed turning it into a walk in pantry because storage is at a premium in this efficiency apartment. The owner was thrilled because it is one less thing to break in an apartment.
Before

After
The Window Makeover
These windows were original to this more-than-100-yr-old building. They were broken but held together because the glass was very thick and had chicken wire run throughout. I broke out the old glass, chiseled off the old paint and sanded the frames down. Some new paint, new glass and privacy film gave new life to the old windows. One of them actually opens now which is a huge bonus in a basement apartment.
before

after
The Entryway Makeover
The entryway did not function very well with one large upper cabinet and no lower storage. We built a cubby area out of upper cabinets, trim and some plywood the owner already had lying around and the coat rack that was already in the apartment.
before

after
The Exterior Makeover
The exterior of the building needed a little freshening up, but we didn't have anything in the budget for landscaping or anything beyond sealing and painting the concrete. I was able to find the paint at Restore so the bright white was a little brighter than I probably would've chosen, but the owner was happy with the results, so I was too.
before

after
This was a fun project to work on because the challenge was in maximizing the space for functionality and storage, but also in adding a little bit of style to the apartment.
Pin it for later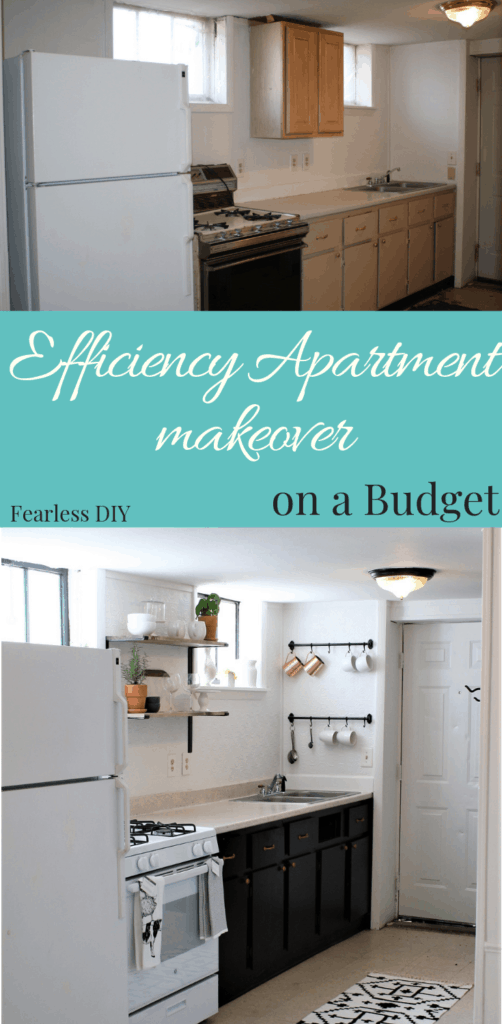 The story behind the apartment
This was a more personal project for me as I lived in this apartment for a little while when I decided to downsize my life years ago. It brought me such joy to brighten up this little space that I used to call home.
It was scary for me to leave my big beautiful townhome and move to a much smaller space in order to save money and work on paying off debt. The men I hired to move my furniture were shocked when we pulled up to this little apartment! Most of my furniture ended up in storage until I bought a house.
This move led to meeting some wonderful people who are still friends to this day. I have never regretted my decision to downsize my life. It led to being able to purchase my first house and start grad school. At the time, it just looked like the adult thing to do, but it ended up being so much fun! Cleaning 400 sq ft takes no time at all, so there was plenty of time for other activities!
Thanks for following along! Go out and try something new.
Emily 🙂