This years Christmas Front Porch Makeover was inspired by Christmas tree lots in all the Hallmark movies. They always have those large cafe style lights strung around the perimeter, lots of trees, straw on the ground and usually a place where you can take cute family pictures.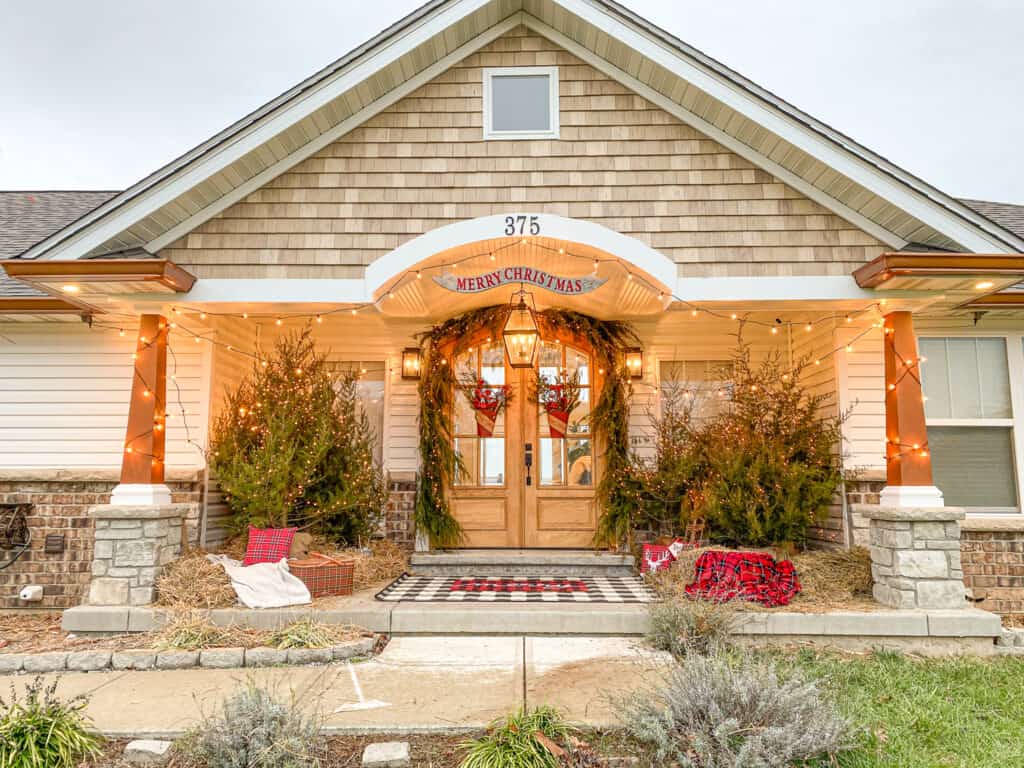 I wanted lots and lots of trees just like on the lot so one beautiful day my husband and I headed to the woods with the Mule to cut down a bunch of cedar trees. I love pine and fir trees, but they don't grow as wild here as cedar. Growing up my family always went into the woods and cut down a cedar tree, so the smell brings back great memories for me.
Warning though! Cedar trees are incredibly prickly and can cause a rash if you are sensitive. So wear your gloves and long sleeve shirts if messing with them!
DIY Christmas Tree Stands
So I ended up with eight trees and obviously I did not have 8 tree stands, so I got a five gallon bucket for each one, placed the end of the tree in it and filled around it with leftover brick and rock from when we built the house. This way the trees were stable in the buckets and they didn't blow over because they were weighted down as well.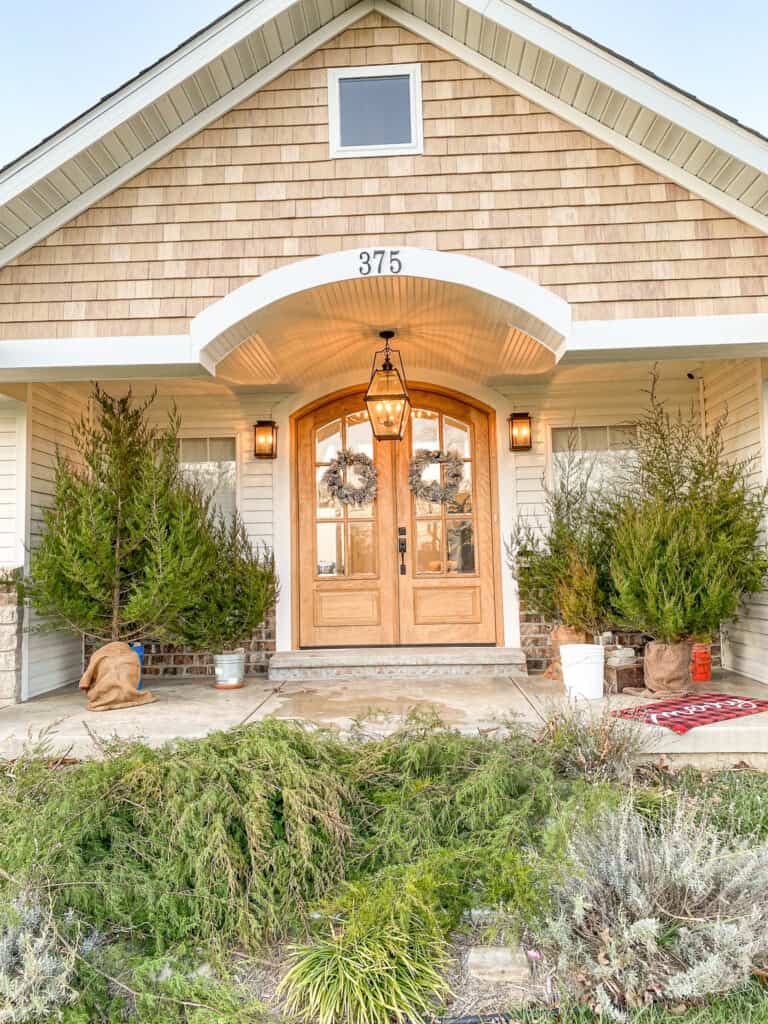 To hide the buckets, I bought burlap from the fabric department at Wal-mart. It was $3.99/yard which I was surprised at, but I didn't want to go around and comparison shop so maybe that is the standard price. I wrapped the buckets and just tucked the burlap under the edge of the bucket to keep it in place.
Best Christmas Lights
The lights I used on the trees are my favorite lights ever. I wrote an entire blog post devoted to them, because they are the best! They guarantee never to tangle and come with a 10 year warranty from The Christmas Place in Pigeon Forge, TN. If a lightbulb goes out, they will replace your strand for free.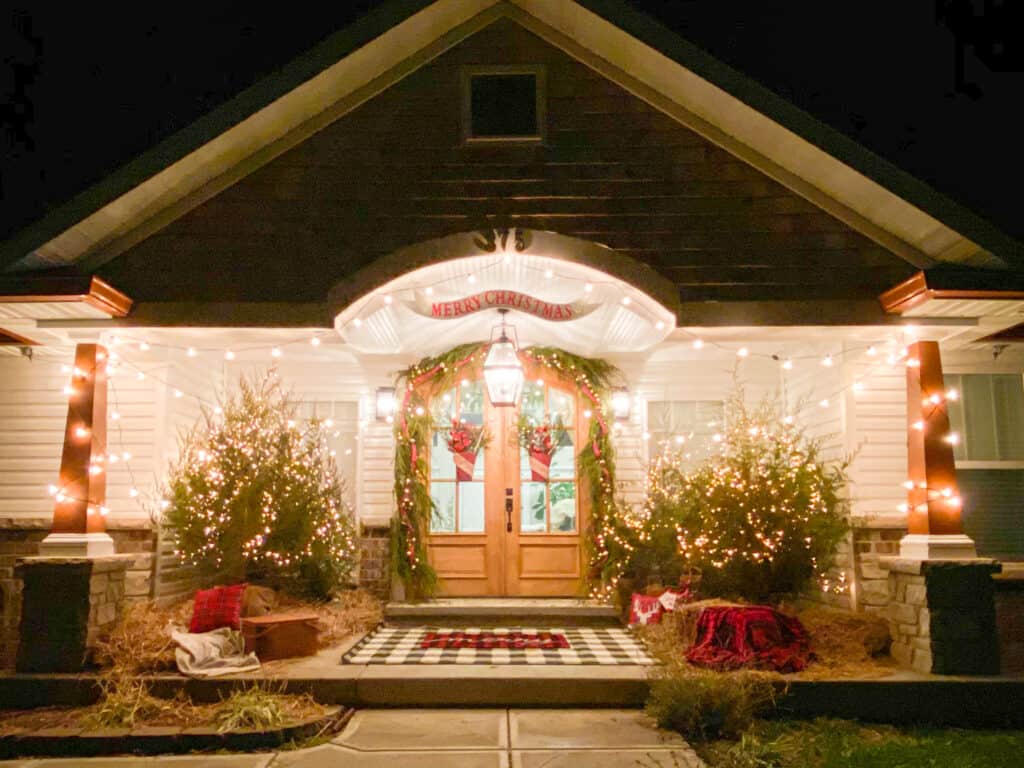 This entire forest of trees and garland around the door is lit with only two strands of lights! TWO STRANDS!!!
A few bales of straw scattered around finished up the base of my Christmas tree lot.
How to make a Christmas door hanging
If you're using live greenery, then be sure to soak your evergreens with Wilt Pruf. I have used this product for years on my fresh cedar and my fresh pine wreaths and my wreaths lasted 3 months last year before they started to brown and get super brittle. Dilute according to the bottle directions, I use 1:10.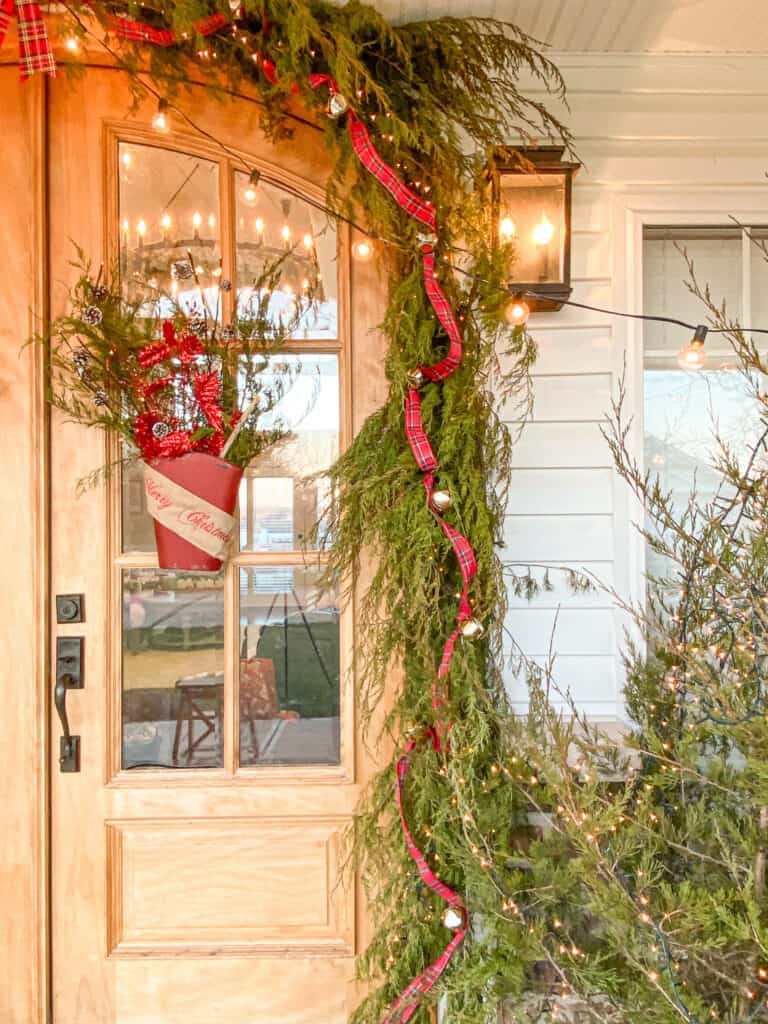 Start with the largest elements first, in my case it was the cedar boughs.
Next add in the branches and space them out evenly.
Place the sparkly pics in the center and fluff them out.
I tried several different ribbons and bows before I landed on the one I liked the best. I cut just enough of this ribbon and then filled the back with masking tape and stuck it on the outside of the metal bucket.
Video of Christmas Porch Makeover
Shop this post
Merry Christmas ribbon options

Pin for Later

Merry Christmas!

Emily 🙂