DIY fresh evergreen wreaths are an inexpensive way to dress up your home for the holidays. If you live in the country, then there is usually some sort of tree that you could harvest a few branches from. Otherwise Christmas tree lots usually have lots of leftover clippings that would be perfect to make your holiday wreaths and swags from.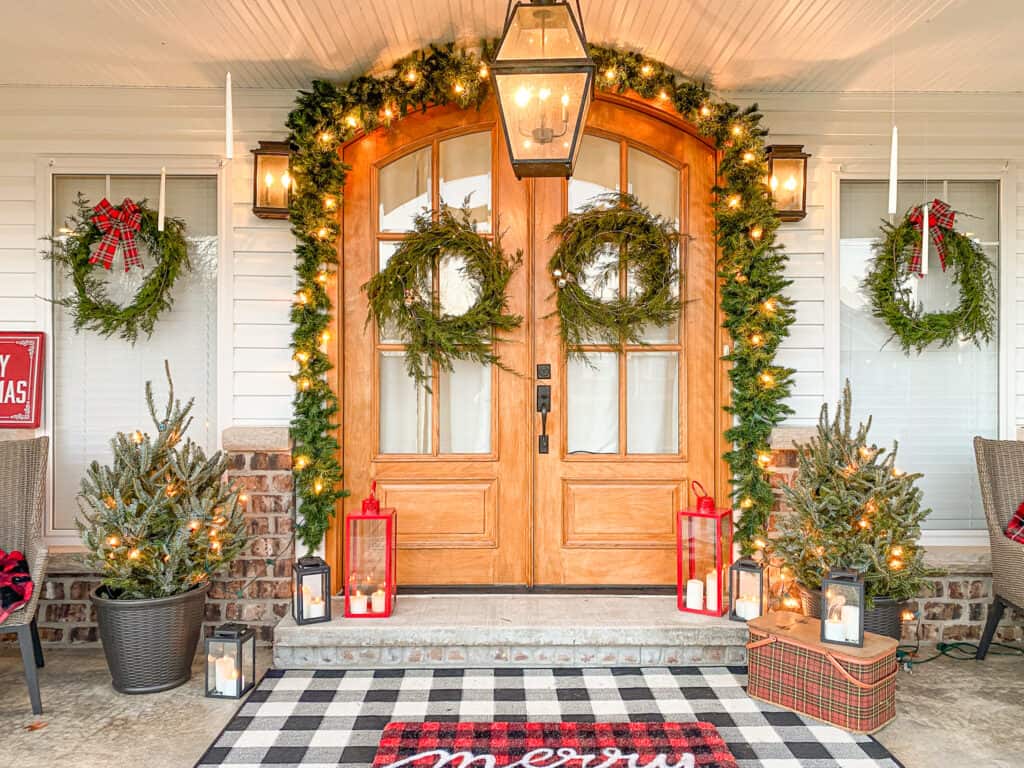 There are two main ways I make wreaths out of evergreens. The first which I'll show you today, is to add the branches to a grapevine wreath that has been already formed. This is obviously a little more expensive than the second way, which is to just tie the branches together and then form it into a wreath. The benefit of the grapevine form is that it allows for a fuller wreath and it holds together better.
The cheaper way looks great too, but it can be difficult to get those branches to form a perfect circle and stay that way!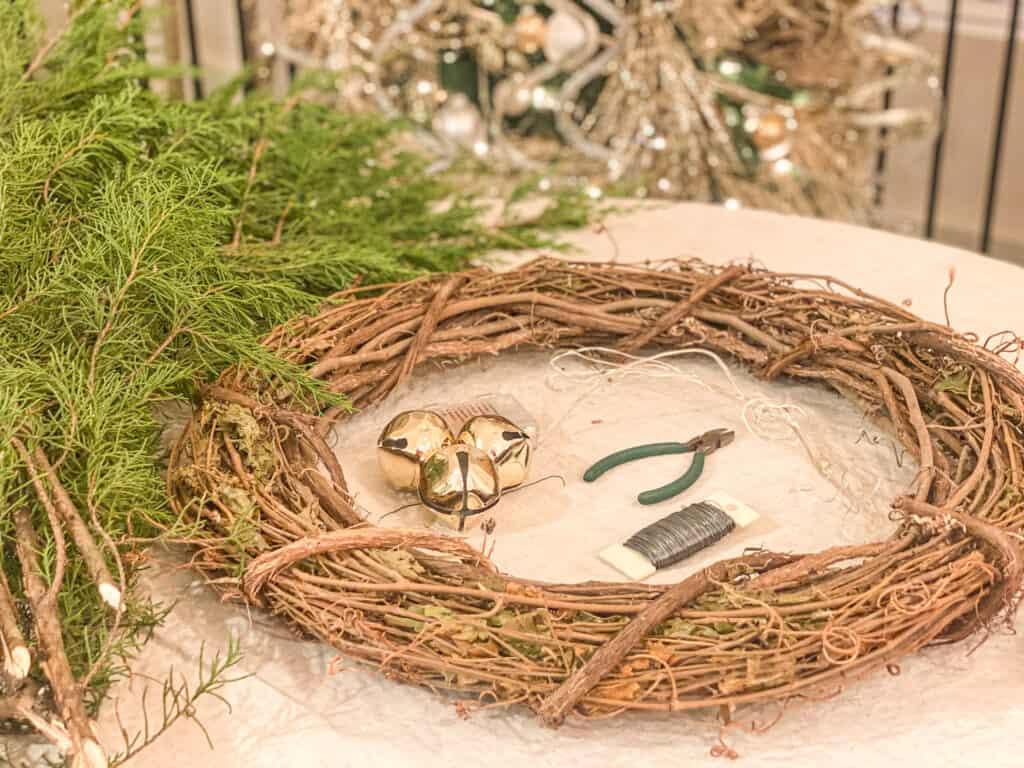 Supply list for a fresh evergreen wreath
Fresh evergreen clippings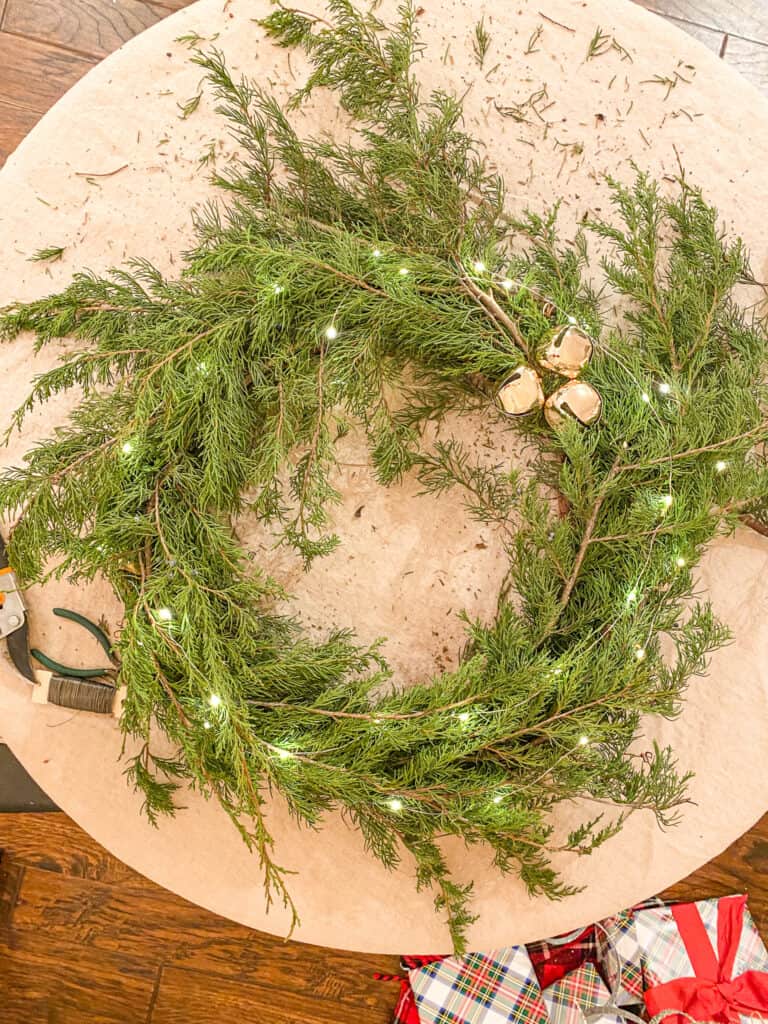 How to make a fresh evergreen wreath
Cut more fresh evergreen clippings than you think you will need.
Soak in water and then spray with Wilt-pruf (OPTIONAL). This step just helps your wreath stay fresher longer. Click here to see how to preserve your evergreens longer.
Start with the largest branches as your base. Tuck the stems deep into the wreath form and thread through the grapevine or attach with the floral wire.
Keep turning the wreath and keep the branches all going the same direction.
Overlap the branches about halfway down each branch.
Start filling in with the smaller branches, just tucking into the grapevine wreath or attaching with the floral wire.
Thread a long piece of floral wire through the three bells and attach to the wreath.
Tuck the lights in among the branches and secure the battery pack to the back of the wreath with wire.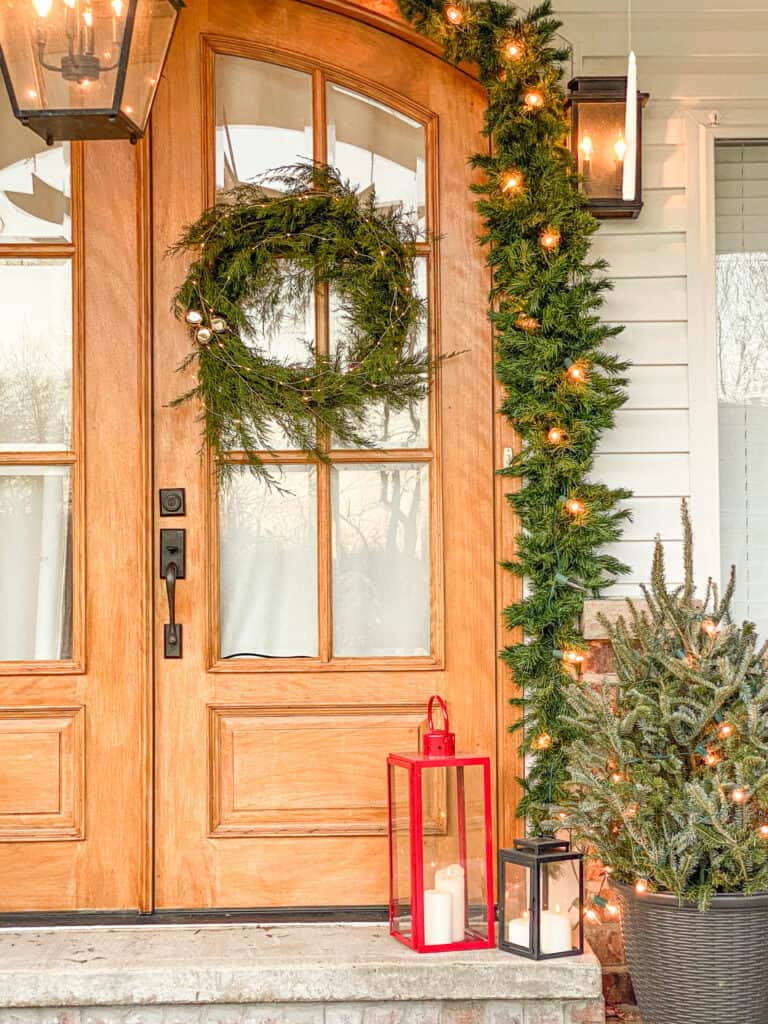 The lights I used in these wreaths come with a remote to turn off and on so you don't have to move the wreath every day to get to the control panel. They also have lots of fun options if you prefer flashing or twinkling lights.
How long does an evergreen wreath last?
On average 1-3 months depending on the weather in my experience. We had a very warm winter one year and my wreaths barely made it a month without drying out and looking like death. One winter was very cold and my wreaths made it until the end of February and still looked fantastic. I have used wilt pruf to help my wreaths hold their moisture, but if it's a very warm winter it just can't help that much.
Video Tutorial
Thanks for stopping by! I hope this helped you in some small way.
Emily 🙂