Learn the easy way to fill your winter window boxes using natural elements found outside your front door! I love adding window boxes to homes and filling them with gorgeous blooms during the spring and summer. The problem comes in the winter when nothing grows outside.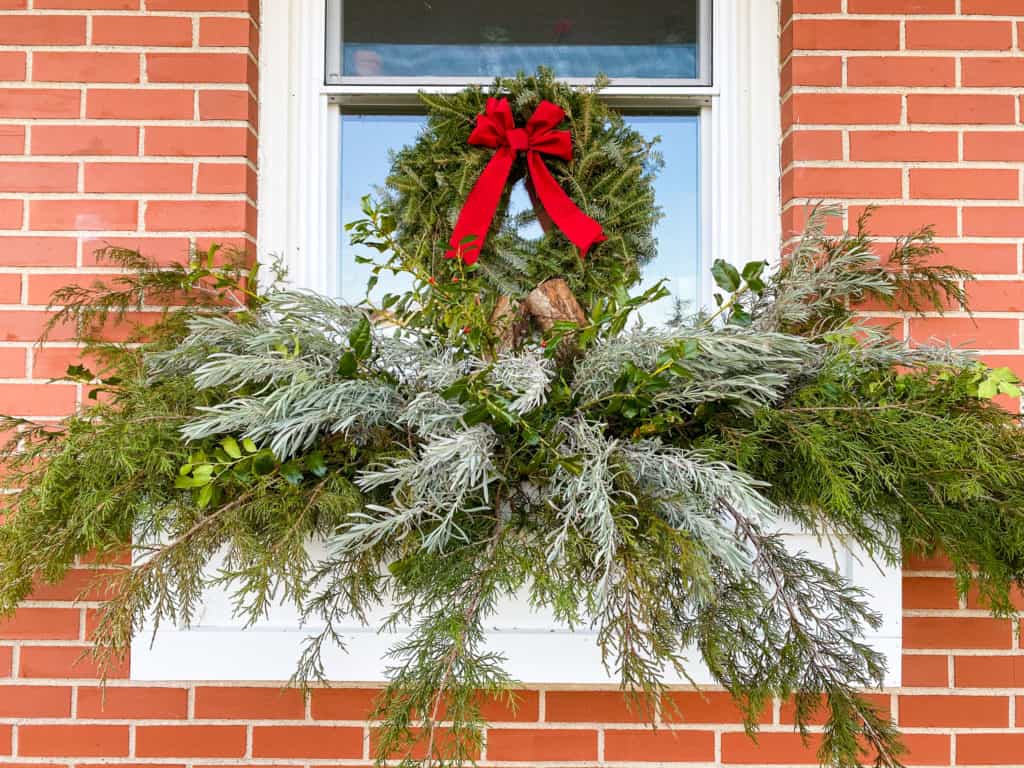 The boxes look naked and sad. My favorite way to liven them up for the season is with natural elements that I can find in the woods. Fresh cedar boughs, holly, lavender, berries, seeds, etc can be used to fill up these planters. This is also very economical as the only things you will have to buy are the lights and any bows you want.
I foraged the local woods for the cedar boughs and raided my mom's lavender patch that was completely overgrown. The lavender added a lovely silver color to the arrangement. The other benefit to using fresh boughs is that they are wonderful as filler. It doesn't take all that much and the box starts to fill up!
The wreaths were part of my Black Friday shopping at Lowes every year. They sell these fresh evergreen wreaths for $5! I spray them with Wilt Pruf and they last until February.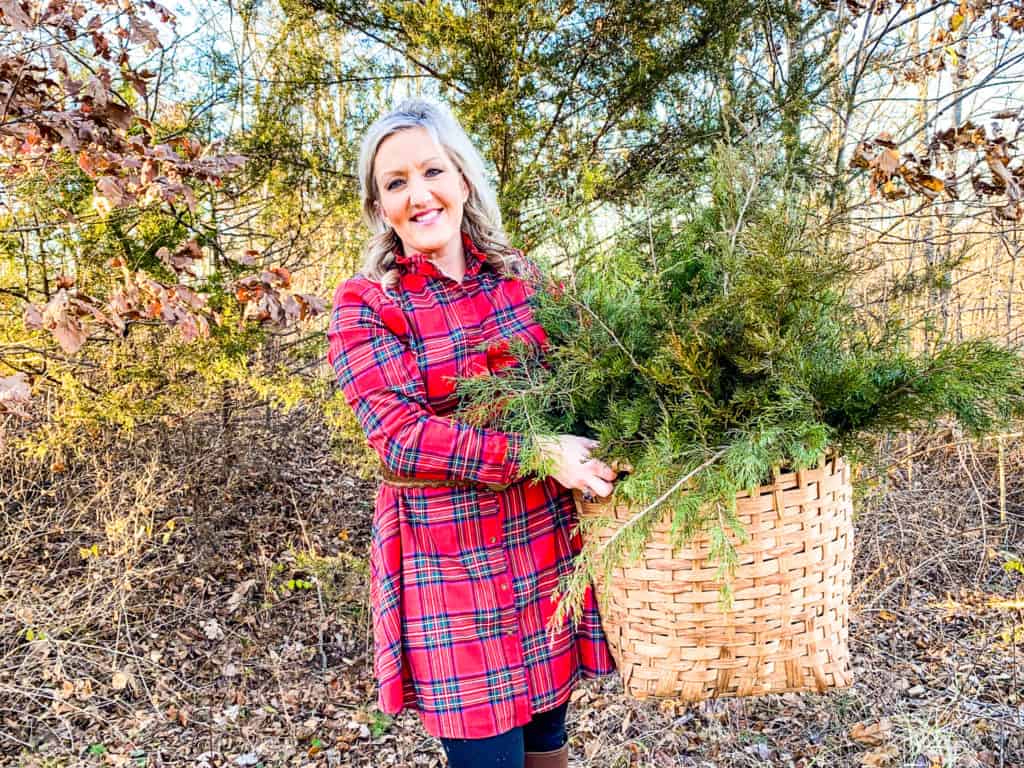 The most important step to preserving the life of your arrangement is to spray everything thoroughly with Wilt Pruf. There is a video detailing how to use it to preserve your fresh evergreens here.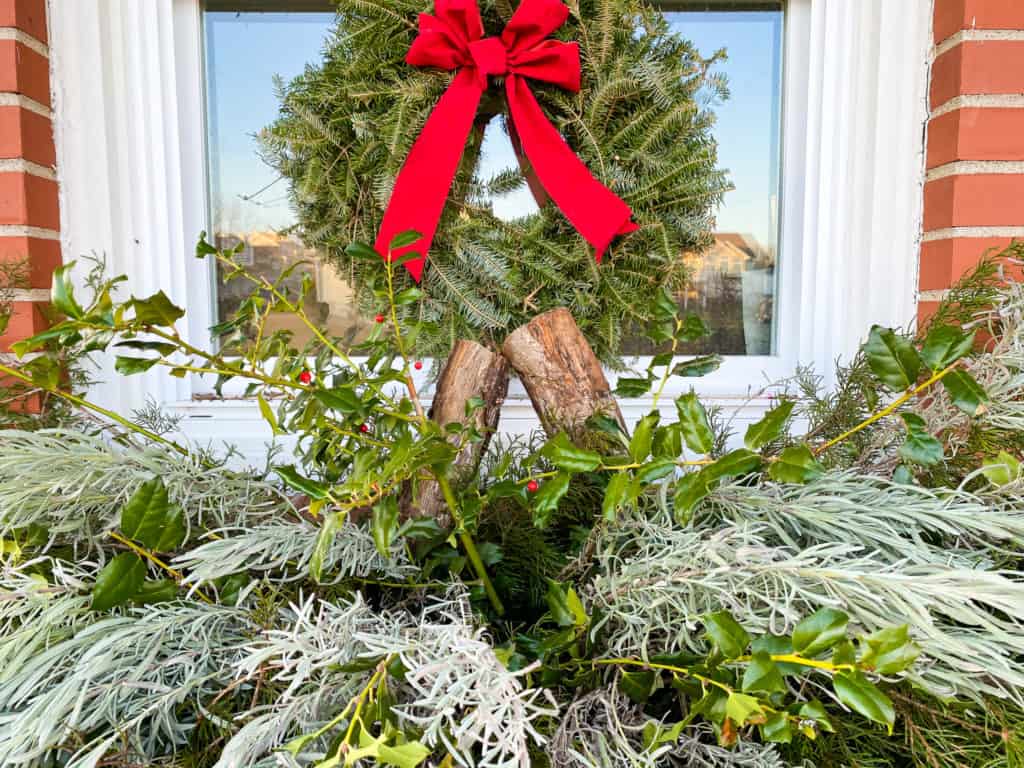 This arrangement is meant to last several months through the winter season not just for Christmas. You could start with red bows and switch out to white or a burlap bow once Christmas was over.
How to decorate your winter window boxes
Spray all evergreens thoroughly with Wilt Pruf! Let dry.
Start with the largest central element. In this arrangement, it was the two logs that were stood upright.
Add in the largest filler element-the cedar boughs. Add all the way around.
Fill in the center with a complementary green or natural element.
Lastly add in the color element. Here is was the round wreath on the window with the bright red bow.
Step back and fill any holes that you see.
Video Tutorial
Don't be afraid to knock on your neighbors door and ask it they mind if you use some clippings from their trees. Or any local Christmas tree stand should have extra clippings lying around that you could use. Anything that looks pretty to you would go great in these boxes. I would love to find some twirly vines to add in or some larger berries to add more color.
Pin for later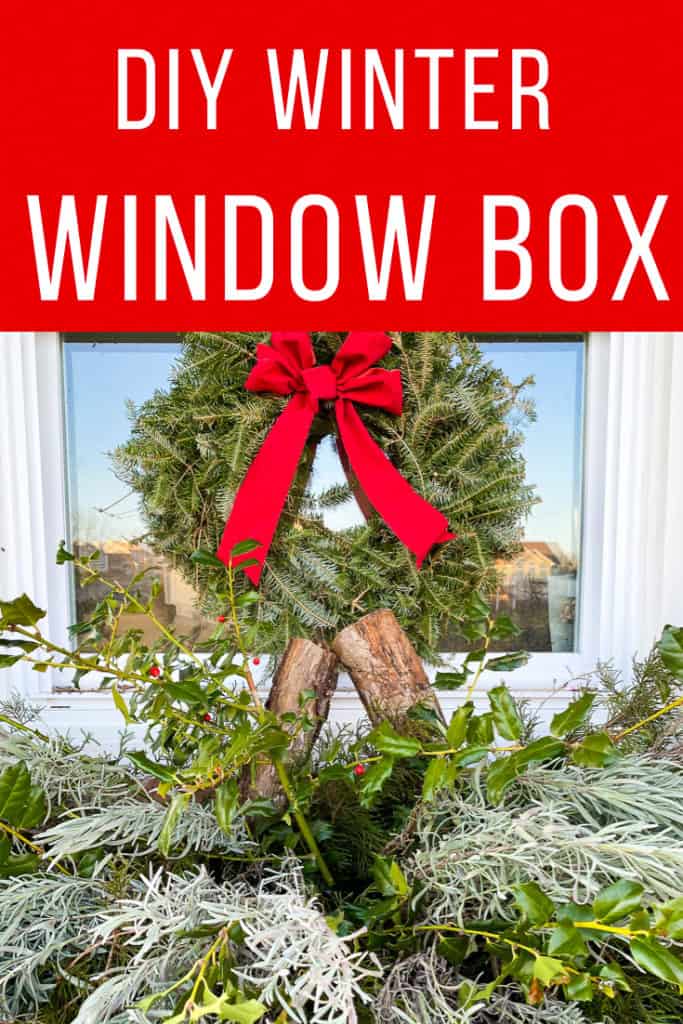 Thanks for watching!
Emily 🙂