How many people love to eat their veggies? If the answer is, NOT ME, then this post is for you. Steaming vegetables always seemed to make them worse to me. I would've rather eaten them raw than eat another piece of steamed broccoli.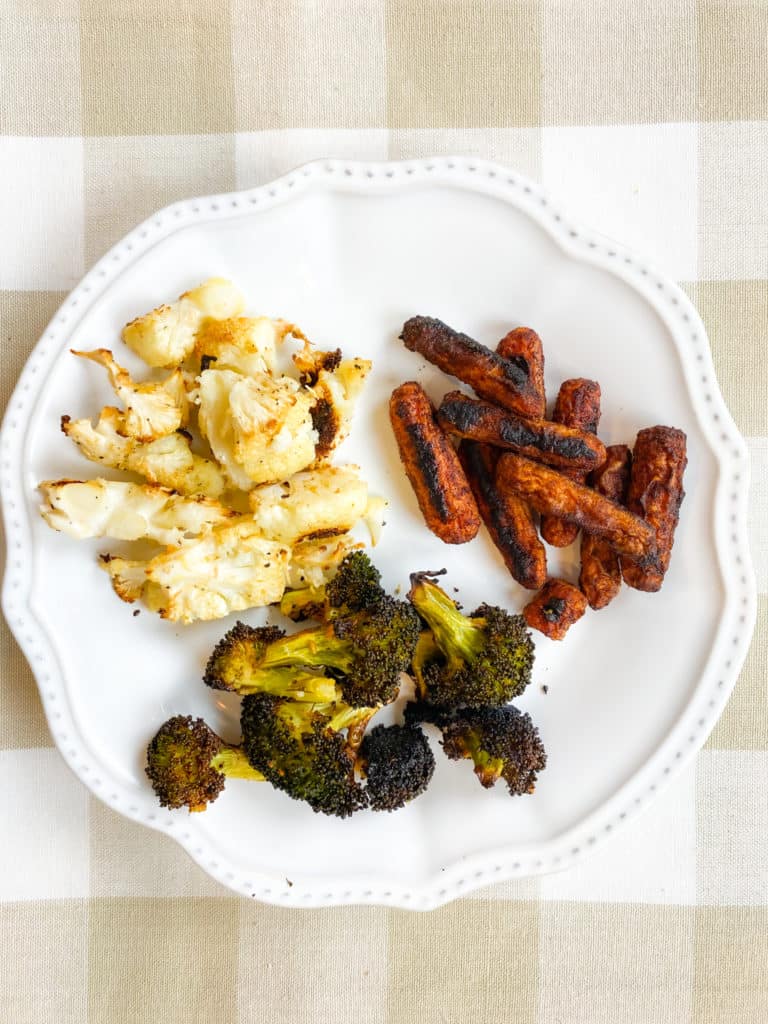 All that changed when I learned how to roast vegetables. It carmelizes the outside of the veggies while making the center tender. It changes funky cauliflower to a delicious side dish.
Now I tend to like my veggies so roasted they are almost burnt so I roast them for 45 minutes, but at 30 minutes they will be cooked through and soft. So you can choose the right time for you!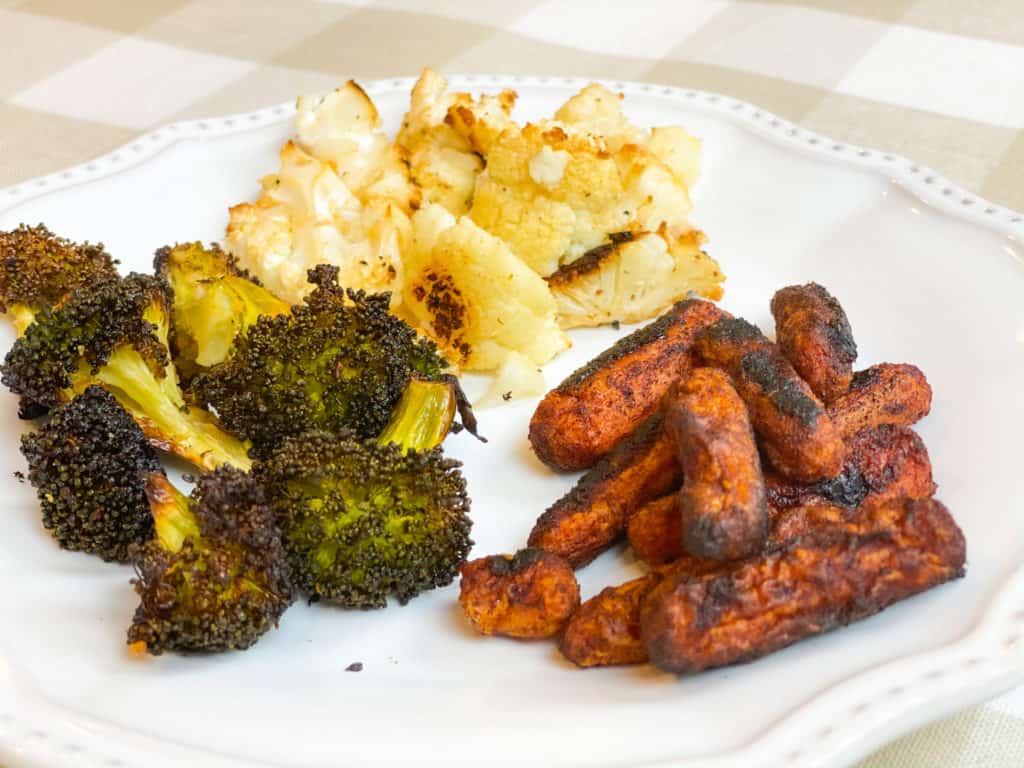 The best vegetables to roast
My favorite starchy vegetables are all amazing roasted, including russet potatoes, sweet potatoes and butternut squash.
But non-starchy veggies do just as well in the oven including broccoli, brussel sprouts, cauliflower, asparagus, mushrooms, onions, zucchini and peppers.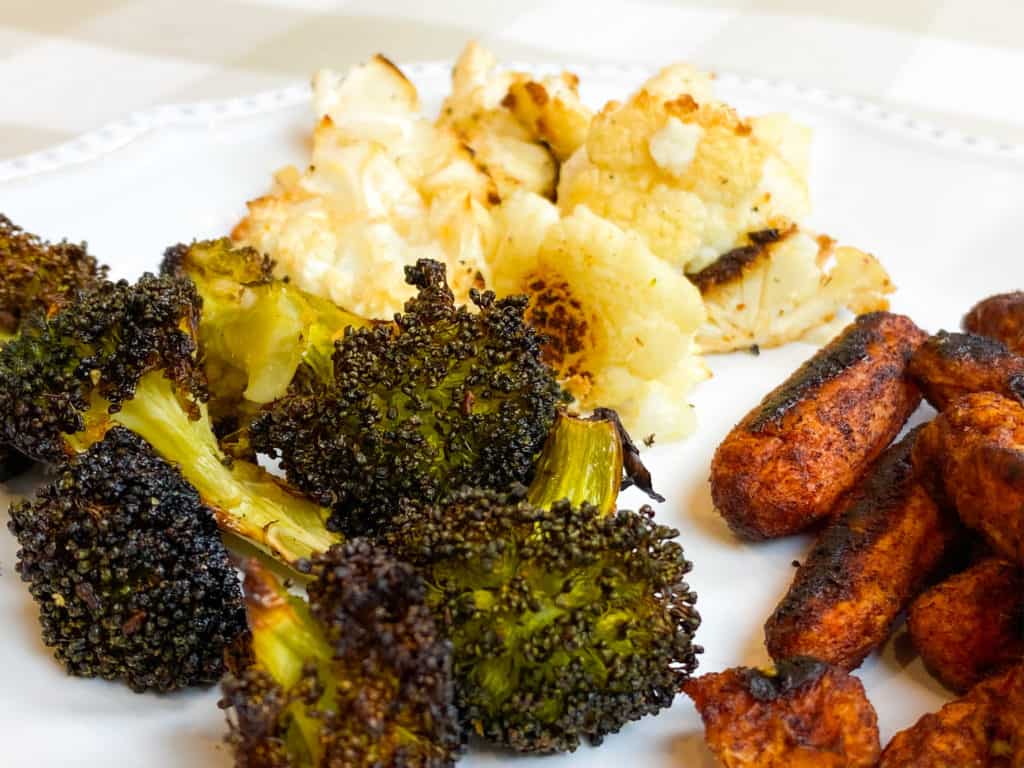 Seasoning roasted vegetables
Garlic tops the list when thinking about seasoning any vegetables. It just adds a delicious aroma and depth of flavor to any veggie dish.
Rosemary adds a savory touch to any vegetable dish and it doesn't take much, maybe a tsp to flavor the whole side.
Onion powder or diced onions is always a must for roasted vegtables.
Cinnamon may seem like an odd pairing, but with roasted carrots it is delicious.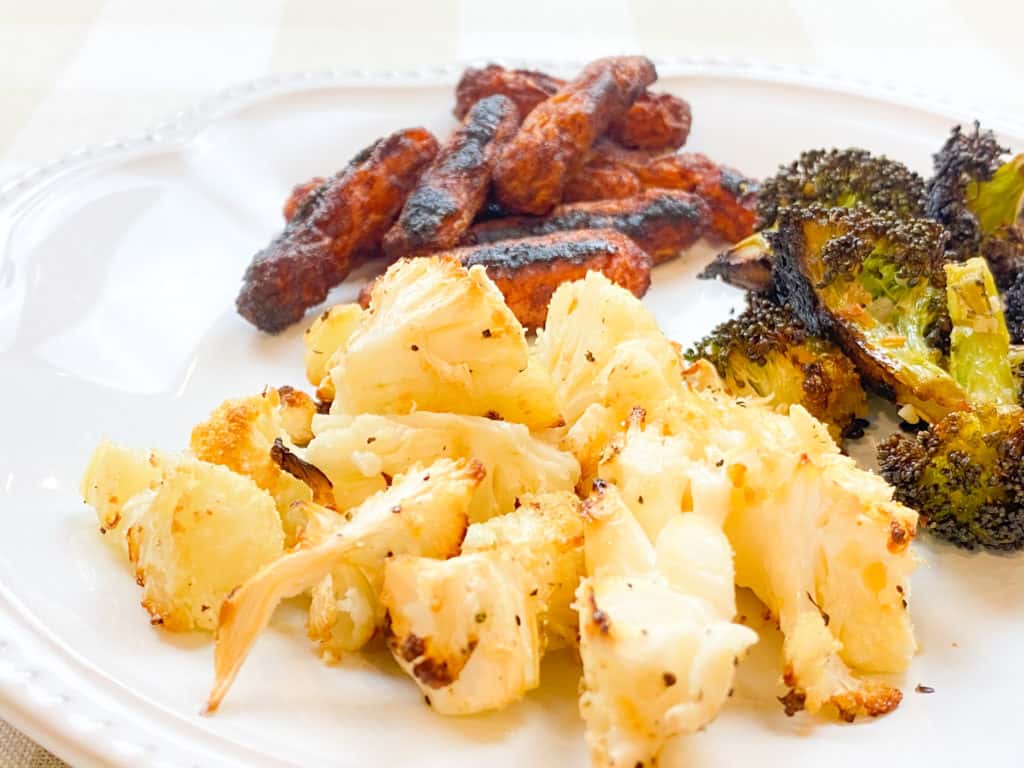 How to get crispy roasted vegetables
For the crispiest roasted veggies, the temp must be high 425-450 and the cook time extended. Thirty minutes will get you veggies that are well done, but for crispy edges 45 minutes is the minimum. For some veggies an hour will be the right time.
How to roast veggies in the oven
Preheat oven to 425.
Wash the vegetables and let dry.
Chop all the veggies into uniform pieces.
Place in a ziploc baggies
Pour olive oil over the veggies
Add in the garlic, onion powder, salt and pepper
Seal the bag and shake to distribute the seasonings.
Place the vegetables evenly on a baking sheet.
Bake for 30-45 minutes until desired doneness.
Roasted Vegetables
Ingredients
3

cups

vegetable of choice ( broccoli, cauliflower, brussel sprouts, carrots)

¼

cup

olive oil

1

tsp

onion powder

2

tbsp

garlic, minced

1

tsp

salt

pepper to taste
Instructions
Wash and drain all the vegetables.

Chop the vegetables into uniform size pieces to ensure even cooking.

Place the veggies in a bowl or ziploc bag.

Pour the olive oil over the veggies.

Add the garlic, onion powder, salt and pepper.

Place on a roasting sheet, spreading out to an even layer.

Roast in oven for 30-45 minutes.
Video Tutorial for Roasted Vegetables
Pin for Later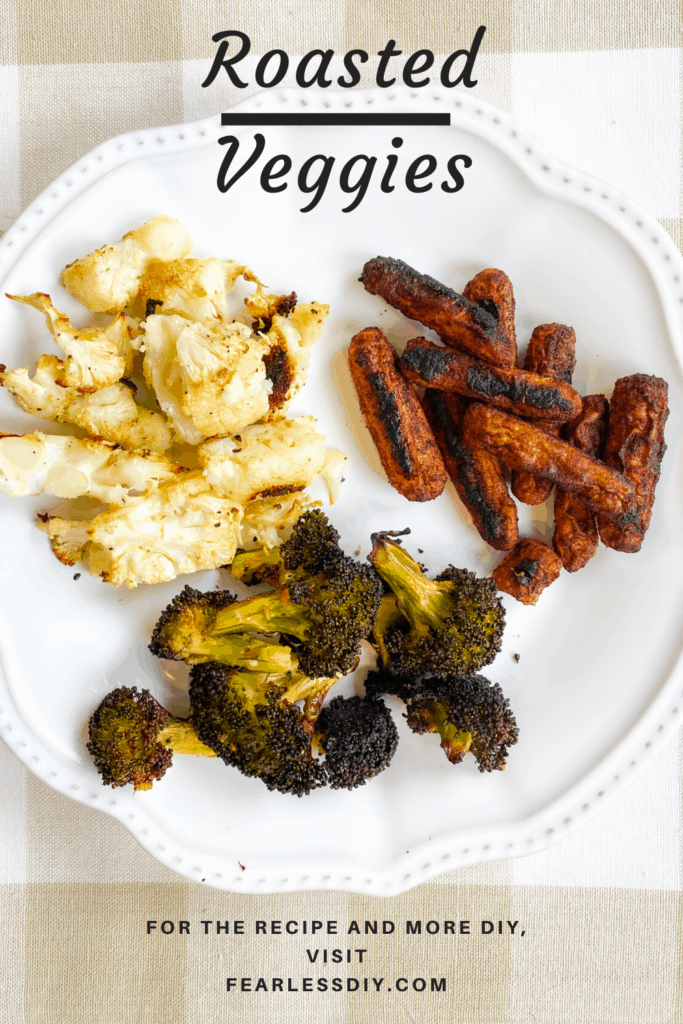 Hope this helps you to learn to enjoy eating vegetables!
Emily 🙂