Some of the hardest things to give up when you are dairy free are the creamiest dishes, macaroni and cheese, cheesecake and things like pot pie but with this dairy free chicken pot pie you can have the best of both worlds.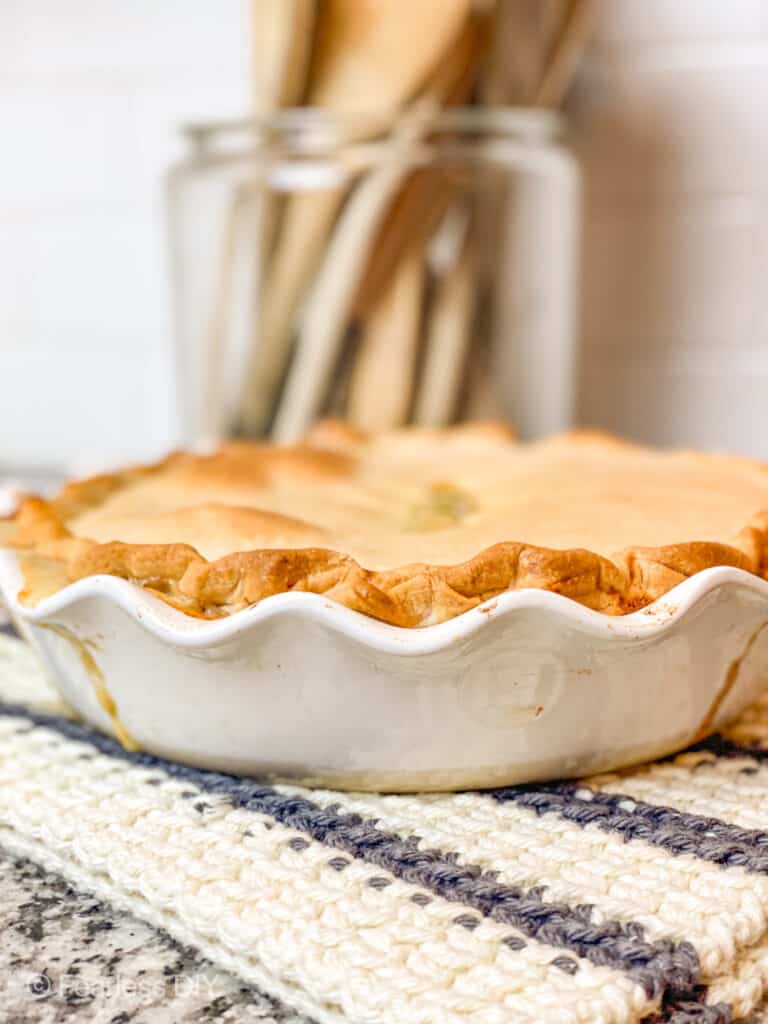 Jump to Recipe
The longer you are dairy free, the more options you find to make delicious dishes without using butter, cream or cheese.
This pot pie was developed one afternoon because my husband loves pot pie and had mentioned that fact to me the previous week. I decided it couldn't be that hard and made one using the leftover rotisseri chicken and roasted vegetables from the night before.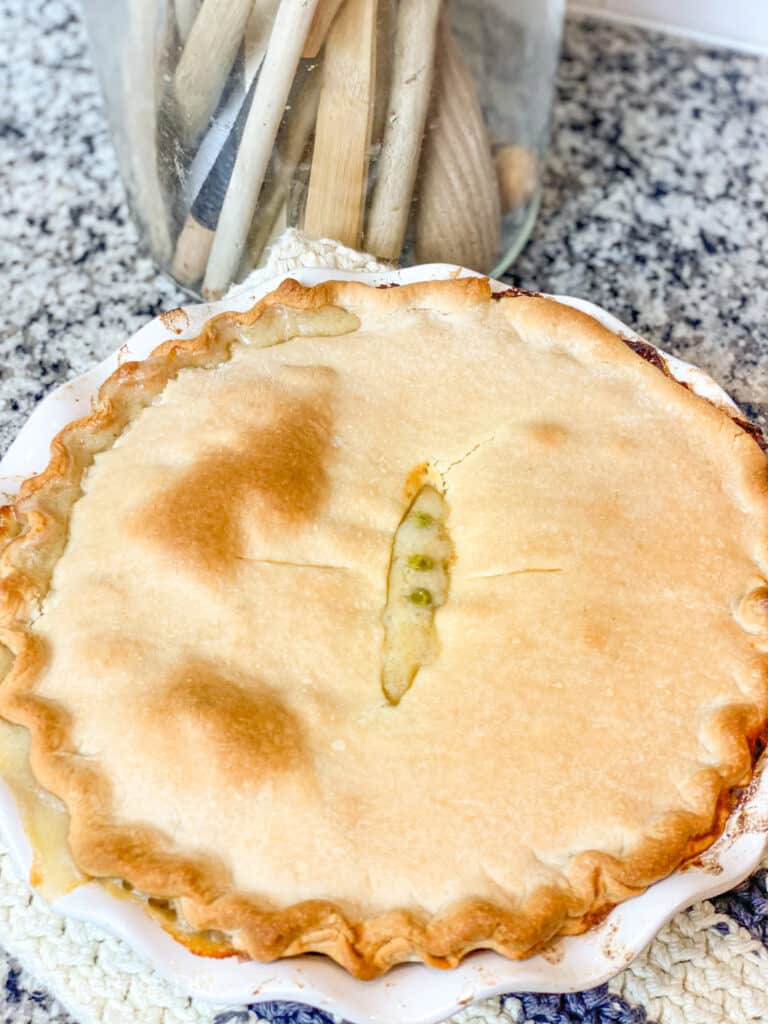 While this recipe is dairy free, it is so easy to add in real butter and cream and really make this dish shine!
As an Amazon affiliate I earn from qualifying purchases, at no cost to you!
How to make a dairy free chicken pot pie
Prep your crust
Set out both crusts on the counter to warm. This makes it easier to roll out into you pie pan.
Fit the first crust into the bottom of the pan.
Prep your veggies and meat
Cut up your roast veggies and rotisseri chicken into bite sized pieces. Here is a tutorial on how I roast my veggies.
Make a Roux
Melt 4 TBSP of crisco, butter or margarine in a large skillet.
Slowly whisk in 2 TBSP of flour into the melted crisco.
Slowly pour in 2 cups of hot stock, boulion or bone broth ( I used Mrs. Millers ), stirring to combine.
Let simmer over low heat to thicken.
Whisk in one can of unsweetened coconut milk(or 1 cup of heavy whipping cream).
Add in the veggies and the meat. Stir to combine.
Pour into your prepared pie pan.
Place the top crust on and pinch the edges together.
Cut slits in the pie crust.
Place in the oven on a cookie sheet or else it will overflow and drip onto your oven!
Bake in a 425 degree oven for 45 minutes.
It freezes really well for up to 3 months.
Dairy Free Chicken Pot Pie
Chicken pot pie is the ultimate in comfort food. This version keeps it simple with ready made pie crusts, rotisserie chicken and roasted veggies.
Ingredients
4

TBSP

crisco

sub margarine or butter for dairy version

2

TBSP

Flour

2

cups

hot chicken stock

Mrs, Millers is my favorite

1

can

unsweetened coconut milk

sub 1 cup heavy whipping cream for dairy version

2

crusts

refrigerated pie crust

3-4

cups

diced rotisserie chicken

2-3

cups

roasted vegetables

broccoli, green beans, corn, carrots, etc
Instructions
Pre heat your oven to 425.

Melt 4 TBSP of crisco(or butter) in a large skillet.

Whisk in 2 TBSP of flour until smooth.

Slowly add in 2 cups of hot chicken stock.

Pour in one can of unsweetened coconut milk ( or heavy whipping cream)

Stir in the veggies and chicken. Simmer while you get the pie pan ready.

Place one pie crust on the bottom and sides of your pie plate.

Pour the filling mixture into the pie plate.

Place the second crust over top the filling and pinch the edges of the two crusts together.

Place in the oven on a cookie sheet (VERY IMPORTANT!)

Bake at 425 for 45 minutes.
Video Tutorial
Pin for later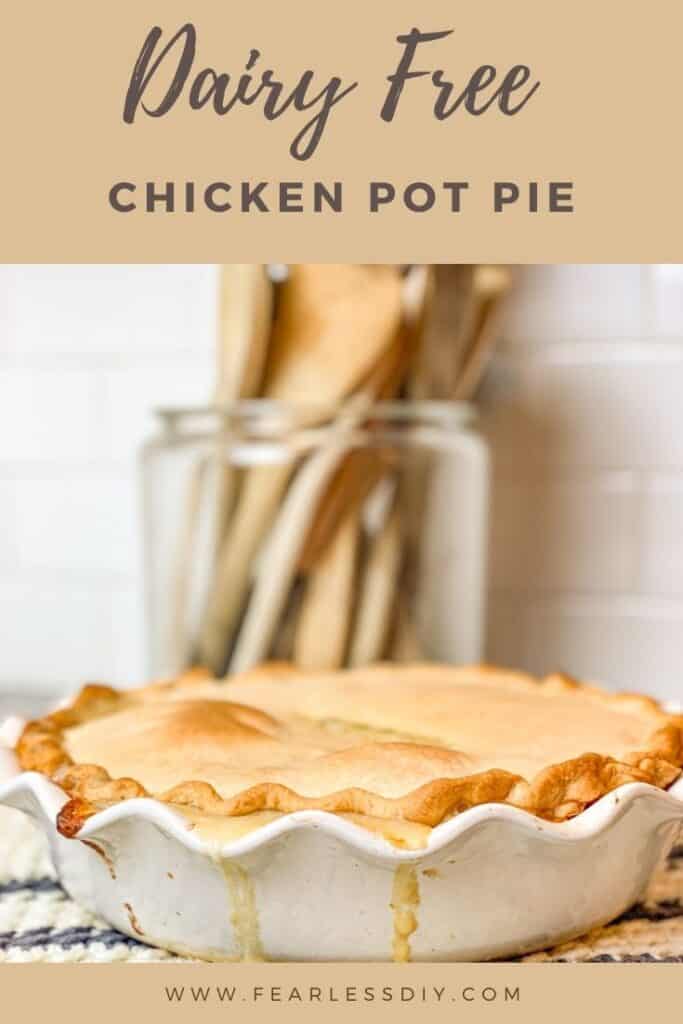 Thanks for hanging out with me for a little while! I hope you and your family enjoy this recipe!
Emily